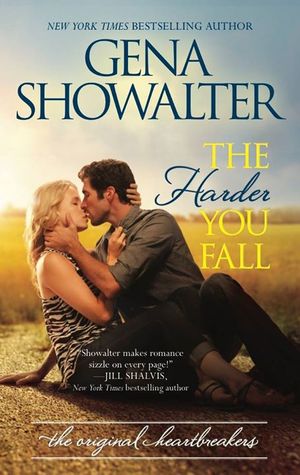 Title: The Harder You Fall
Author:
Gena Showalter
Series:
The Original Heartbreakers #3
My rating:
5 of 5 stars
Goodreads
|
Amazon
|
B&N
|
BookDepo
Millionaire video-game creator Lincoln West has a dark and tragic past. The sought-after bachelor lives by a rigid schedule and a single rule—one relationship per year, lasting no more than two months. No exceptions. He moved to small town Strawberry Valley, Oklahoma, with his brothers-by-circumstance hoping to escape the worst of his memories—until a brash beauty dredges up long-buried emotions.

A reformed party girl, Jessie Kay Dillon is determined to walk the straight and narrow. But her love-hate sizzle with West is just too irresistible. They can't be near each other without tearing off their clothes, but the last thing she needs is to be his next two-month dump. Can she be the one exception? Because as any former girl-gone-wild knows: rules are made to be broken.
The Original Heartbreakers are back!
After meeting Beck, Strawberry Valley's most sought out bachelor, the one known as 'one and done' we now meet Lincoln West aka 'two months and done'.
Lincoln West lives by many rules but there is just one particular rule that keeps him going; never date a woman for more than two months. The secrets of his past are well guarded even from his best friends, Jase and Beck. He would do anything for them but he would never let them worry about his own demons. There is no way out of from his personal hell.
Well, never say never Lincoln!
Jessie Kay is a force not to be reckoned with! The former party girl/ Strawberry Valley beauty queen is a changed woman. After her sister's accident, Jessie Kay has decided to let her party days goes and welcome adulthood (or not). Helping her sister with her catering business may not be what she wanted to do but she will do anything that keeps her sister happy. It would probably be a better job if she didn't have to cater to West.
The tension is there, the chemistry is there but Jessie Kay wants to break Lincoln's rules as well.
I've fallen in love with this series from the very beginning! I loved Jase and Beck's stories and I was really looking forward for this one. The harder you fall was everything I expected it to be.
West was a stubborn man who couldn't quite let go the memories of his past and the guilt that came with them. He blamed himself for so many things and he wouldn't let these feelings go no matter how much Jase and Beck reassured him that everything's in the past. Jessie Kay was troubled by guilt as well. Her sister does a lot to let help deal with it but she's convinced that it is her fault that they have lost everything.
Jessie Kay and West were so stubborn, I had no idea who was going to win the games they played. Their HEA doesn't come easy but when it happens, it's perfect with lots of humor and romance.
The harder you fall is A-M-A-Z-I-N-G!!! If you've loved Jase and Beck's stories then you're going to love this one too!