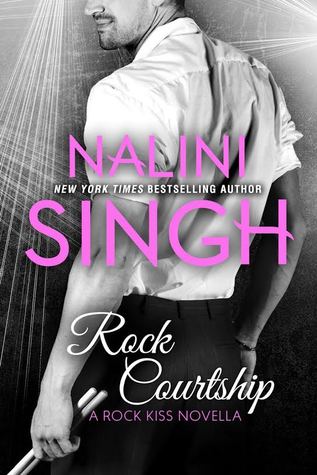 Title: Rock Courtship
Author:
Nalini Singh
Series:
Rock Kiss #1.5
My rating:
5 of 5 stars
Goodreads
|
Amazon
A drummer for the hottest rock band on the planet, David has a single, powerful weakness: Thea, the band's publicist and the woman who steals his breath away with her every move.
Only problem is, Thea doesn't date clients--or musicians. Emotionally scarred by a cheating ex, she's not about to risk her heart with a man who has groupies buzzing around him like flies. Even if his sexy smile ties her up in knots.
What she doesn't know is that David is a one-woman man...and he's madly in love with her. David's determined to prove he's worth the risk, and willing to court her, step by exquisite step. Thea's about to discover just how long and hard this handsome drummer can play.
Just WoW!
I thought this series couldn't get any better but apparently I was so wrong (Thank God!).
In Rock Addiction we got to see Fox and Molly's story but it was also the book that Thea, Molly's sister and the band's managed and David, the band's drummer began to fall in love.
Rock courtship tells us how these totally different characters found each other. The book picks up where the previous book left off.
Thea may be the band's manager but she knows that if she wants to be taken seriously she better keep her distance. David is the total opposite from her. Once upon a time he may have admited his fellings to Thea but after been shot down he knows he must take another approach. And he does..
Thea believes that she deserves some time off after working so hard for the band. While on vacation though she can't but keep an eye on the band and that's when she gets the first memo. David won't quit until he gets his HEA. So, it begins. Thea and David exchange a lot of memos in which they argue why they should be a couple. They memos start to get so hot that they both anticipate the time they meet again. And when they do, sparks begin to fly...
Even before reading the book, we do know some info about Thea and David but we don't know the info that really matters. If you've read the previous book then you must be surely wondering why Thea is so cold and avoids men and many other questions. This book will answer those questions. Actually the book provides more than answers. It gives us a lot of background on Thea and David and their families as well. I thought that I knew all about the band in the first book but after reading Rock courtship I feel like I knew nothing.
I really loved this book but there were times that the flow was very slow. This book is a novella, which means it's a lot smaller than an actual book so I excepcted a lot of action and less background. It's not that I didn't appreciate the background but I really wanted to see more action for Thea and David.
Despite that, I had no other problem with the book. As the previous book there was a major twist that almost ripped Thea and David apart but by then, they already trusted each other so there wasn't any big drama.
What I loved the most were the incredible memos they sent to each other. Eveytime I read one, I'd feel their passion, loneliness, anger and their happiness in the end.
As always, Nalini is one of my favourite authors and I absolutely recommend this book (especially if you've read book one).
*Copy was provided by NetGalley in exchange for an honest review.*
Read more »