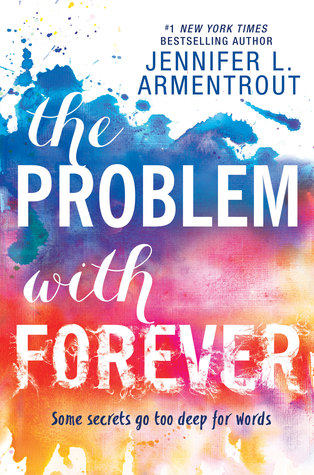 Title: The Problem with Forever
Author:
Jennifer L. Armentrout
Series: None
My rating:
5 of 5 stars
Goodreads
|
Amazon
|
B&N
|
BookDepo
For some people, silence is a weapon. For Mallory "Mouse" Dodge, it's a shield. Growing up, she learned that the best way to survive was to say nothing. And even though it's been four years since her nightmare ended, she's beginning to worry that the fear that holds her back will last a lifetime.Now, after years of homeschooling with loving adoptive parents, Mallory must face a new milestone—spending her senior year at public high school. But of all the terrifying and exhilarating scenarios she's imagined, there's one she never dreamed of—that she'd run into Rider Stark, the friend and protector she hasn't seen since childhood, on her very first day. It doesn't take long for Mallory to realize that the connection she shared with Rider never really faded. Yet the deeper their bond grows, the more it becomes apparent that she's not the only one grappling with the lingering scars from the past. And as she watches Rider's life spiral out of control, Mallory faces a choice between staying silent and speaking out—for the people she loves, the life she wants, and the truths that need to be heard.
Holy cow! This one was a tear-jerker!
Is this a standalone? I hope not (please make it a series!!!) I seriously need more!
It is not often you read something so beautifully touching! I'm fully aware that this won't be the case for everyone but it was for me. The last book that made me feel this way was the Paper Swan by Leylah Attar and it really changed the way I see things! The problem with forever had the impact as the paper swan to me.
Mallory Dodge, aka Mouse, hasn't had it easy. Growing up, every day was a new fight to stay alive but she always had Rider to keep her safe and take care of her, they always had each other until circumstances separated them. Now, years later, life has brought them together once again. As much as it thrills them to be together again it also brings back the demons of their past. Has Rider found Mallory only to lose her again?
This is not a YA romance (okay it is!) but it also so much more! It is a story about life and promises and love and the huge problem with the idea of forever. This is one of those books where the title makes sense at some point in the book and I know some people love these kind of books, so that's another great thing about the book! Mallory and Rider were two inspiring characters that go through a lot but when they are with each other they realize that life is a promise and forever is just a new tomorrow!
I really need more books, need to know more. This surely cannot be the end! I have so many questions and then what about Hector and Ainsley? I refuse to believe this is the end. I'll patiently wait for news about more books…
*ARC provided through NetGalley in exchange for an honest review*