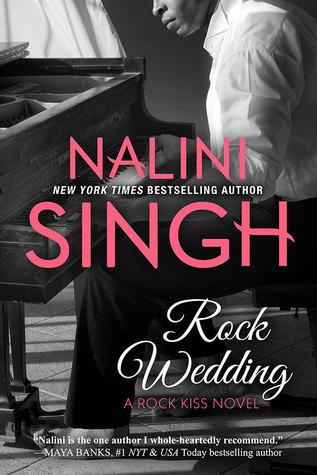 Title: Rock Wedding
Author:
Nalini Singh
Series:
Rock Kiss #4
My rating:
5 of 5 stars
Goodreads
|
Amazon
|
B&N
New York Times bestselling author Nalini Singh continues her Rock Kiss series with a hot, sweet, emotional contemporary romance about love and forgiveness…
After a lifetime of longing for a real family, Sarah Smith thought she'd finally found her home with rock star Abe Bellamy, even if she knew Abe didn't love her the way she loved him. But their brief relationship, filled with tragedy and heartache, nearly destroyed her. Alone, emotions in turmoil, and already shaky self-esteem shattered, Sarah struggles to pick up the pieces in the wake of their divorce.
Abe knows he's to blame for the end of his marriage. Caught in a web of painful memories, he pushed away the best thing in his life – the sexy, smart woman he adores – breaking them both in the process. Then fate throws him a second chance to get things right, to prove to Sarah that she means everything to him. Abe desperately wants that second chance at love...even if he knows he doesn't deserve it.
But can he convince Sarah – now strong and independent without him – to risk her wounded heart one more time?
Rock Wedding was freaking INCREDIBLE!
Each book in the Rock Kiss series has been uniquely beautiful and Rock Wedding was no exception! I thoroughly enjoyed reading Abe and Sarah's book!
If you've read the previous books in the series, then you already know that Abe and Sarah used to be married but due to Abe's drug addiction and therefore erratic behavior, the couple separated.
People can't change but they can surely try! Abe is now clean and after the disaster that went down in Rock Redemption involving Sarah, her (ex) boyfriend and Abe himself, Sarah just needs a break. Abe seems to have changed a lot in many aspects but is Sarah ready to take a chance and risk her heart once again?
I'm in love with Rock Wedding and Abe and Sarah and their HEA and everything in-between. Abe was a tortured soul who made a lot of mistakes, with his biggest one being pushing Sarah away! Their marriage was far from perfect and Sarah knows that Abe was not the only one responsible for their divorce. Now they both know better, they are more mature and confident in what they want. Now may be the perfect time to rekindle a fire that never died, if only they are willing to risk it all this time…
Rock Wedding is about what the title suggests: weddings. That's right, not just one but many! We get to see all of the Schoolboy Choir members and their other halves including Gabriel and Charlotte.
Whether you loved or not the previous rock stars, Abe is just a man trying to find what's missing form his life and that's Sarah! Rock wedding is a must-read. Go read it 
*ARC provided via NetGalley in exchange for an honest review*