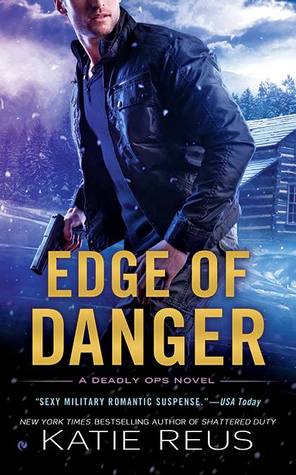 Title: Edge of Danger
Author:
Katie Reus
Series:
Deadly Ops #4
My rating:
4 of 5 stars
Goodreads
|
Amazon
|
B&N
|
BookDepo
When an assassin tries to kill undercover DEA agent Tucker Pankov the same week his boss is taken out, Tucker has good reason to be paranoid. And when other members of his elite team are not only targeted, but stripped of top-secret security clearance, Tucker has one shot at discovering who wants them dead—and why. So he kidnaps the only woman he thinks can save them.
Brilliant NSA analyst Karen Stafford doesn't like being forced into anything, especially by someone she doesn't trust. Yet after a hijacked US-owned drone starts attacking government installations resulting in mass casualties, Karen has to take Tucker's side. Now, two unlikely allies must unite to prevent an escalating and unthinkable terrorist conspiracy. But as Tucker and Karen grow intimate, they realize the conspiracy runs deep, and their enemies are closer than anyone realized.
When his boss is murdered and his team framed for terrorist attacks, undercover DEA agent Tucker Pankov knows it's time to act. After the hit on his tem, Tucker must carefully choose who to trust to help them. There is just one man that their boss really trusted so Tucker has only one shot to clear their names. But to get to this man, they will have to go through his assistant.
NSA analyst Karen Stafford can't understand why a bunch of criminals abducted her and are insisting to contact her boss. Especially the one who calls himself Tucker since she knows that he is a notorious murderer. They are trying to convince her that they are DEA agents and the more evidence they provide the more she's beginning to question the information she's been given at the agency. When the Media blame Tucker's team for a murder she's sure they can't have committed since they were with her at the time, Karen takes matters at her own hands.

I really liked Edge of Danger. From page one we are taken into a world of deception, lies and a world where the good guys seem to be the bad guys. Tucker and his team are patriots who have served their country and continue to do so despite the accusations against them. They didn't really want to kidnap Karen but they had no other choice. When Tucker and Karen finally get to spend time together they are taken aback from their attraction between them. Karen is the woman who's about to turn his world upside down. But their attraction is a challenge they will both have to win as Karen's loyalties are questioned and Tucker's future isn't looking that bright.

The fourth book in the Deadly Ops series is full of non-stop action, suspense and romance. Tucker and Karen were great protagonists and I hope we get to see more of them in the next books but what I really want to know is who is next. I hope it's someone from Tucker's team. They were all great and I really wish to read their stories.

*ARC provided in exchange for an honest review*