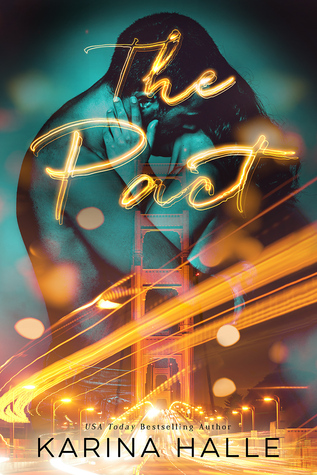 Title: The Pact
Author:
Karina Halle
Series: None
My rating:
3 of 5 stars
Goodreads
|
Amazon
|
B&N
|
BookDepo
It all started with a pinky swear…
Linden McGregor is tall, rugged, and gunslinger handsome; a helicopter pilot with a Scottish brogue and charm to spare. He's also one of Stephanie Robson's best friends and has fit into that box for as long as she's known him.
But some relationships can't be boxed, can't be classified, can't be tamed.
Back in their mid-twenties and tired of the competitive hit-or-miss dating scene of San Francisco, Steph and Linden made a pact to marry each other if neither one of them are in a serious relationship by the time they hit thirty.
It sounds like fun and games but as the years to thirty tick past and lovers come and go out of their lives, the pact becomes larger than life.
Sex is inevitable. Friendships are tested. Hearts are on the line.
The pact is about to change everything.
The pact is one of those books that you kind of already know what to expect but still read it because you love a good romance.
Stephanie and Linden have been friends for a very long time so when they reach their mid twenties and still haven't found their one great love, they make a pact: if both of them aren't in a serious relationship when they turn 30 then they will marry each other.

In the book we see glimpses of their lives until they reach the great 30. Then the tension between them explodes. Both Stephanie and Linden are afraid of pursuing something more between them because they are afraid they will sacrifice their friendship which is sacred to them if things between them don't work out.

Being 30 doesn't make you wiser and that's what both of them try to make us understand. They are still trying to figure out their wants, careers, friends and even their lovers. But they can't keep denying the attraction between them and when they decide to give what between them a chance, they ignite.

The Pact is told in dual POVs which is good as we got to see how both of them felt: their insecurities, doubts, jealousy but most importantly their love.

If you are in for a good romance and two super amazing, funny, loving and caring characters then the Pact is for you.