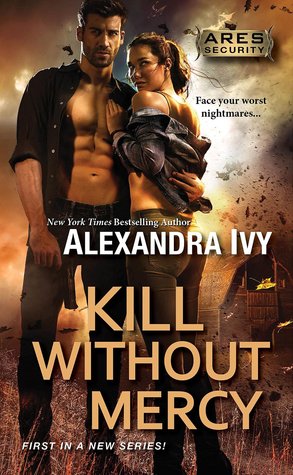 Title: Kill Without Mercy
Author:
Alexandra Ivy
Series:
ARES Security #1
My rating:
5 of 5 stars
Goodreads
|
Amazon
|
B&N
|
BookDepo
Rafe Vargas is only in Newton, Iowa, to clear out his late grandfather's small house. As the covert ops specialist for ARES Security, he's eager to get back to his new life in Texas. But when he crosses paths with Annie White, a haunted beauty with skeletons in her closet, he can't just walk away—not when she's clearly in danger…
There's a mysterious serial killer on the loose with a link to Annie's dark past. And the closer he gets, the deeper Rafe's instinct to protect kicks in. But even with his considerable skill, Annie's courage, and his ARES buddies behind him, the slaying won't stop. Now it's only a matter of time before Annie's next—unless they can unravel a history of deadly lies that won't be buried.
Mind-Blowing!
Alexandra Ivy's new series, Ares security, will leave you at the edge of your seat. This book is like nothing you've read before by Ivy but it's still as abso-f*ucking-lutely incredible as her other books.
When Rafe Vargas and his friends escaped from a Taliban prison the only thing that kept them alive was the promise of freedom. Now back in the U.S. the team Rafe, a covert ops specialist, Max, trained in forensics, Hauk, a sniper, Teagan, a computer wizard and Lucas, hostage negotiator is about to introduce their own kind of security, Ares security. But first Rafe has to leave his ranch in Texas and travel to Newton to take care his late grandfather's small house. While in Newton, Rafe meets Annie White, his need to go back home is forgotten and another need emerges; to protect.
Annie is haunted by a past that everyone in Newton knows about. Everyone blamed her father for the murders in Newton 15 years ago and they still do. It doesn't matter that he's dead. Especially when Annie returns to Newton and it seems like women start disappearing and the killings have started again. Annie knows she must act before it gets as bad as the previous time but she doesn't know who to trust.
This one was full of non-stop action from the very beginning. Kill without mercy may have been Rafe's story but we got to meet Max, Hauk, Teagan and Lucas. They all went to Newton when it became clear that Rafe was dealing with a more dangerous threat than what he was prepared. They were such a great team!
All the characters were great but what I truly loved was the plot. That was insanely good! There was plenty of action but what I'm really talking about are the twists. There were so many secrets that were kept from Annie, so many lies that she had been told. If Annie and Rafe want to uncover the real identity of the Newton slayer they will have to dig deeper beneath this sea of lies and secrets and uncover the truth. A truth that will shock the whole small community.
Kill without Mercy was mind-blowing. I really liked the characters, the plot and the twists. I read it in a sitting and I couldn't turn the pages fast enough. There is a huge mystery surrounding the White family and it was a great challenge uncovering it.
I'm not sure but I believe Hauk's story is next! Hauk keeps getting threating messages and no one can determine who the perpetrator is, despite their attempts.
The book also reveals the first chapter of Blood Lust, the third book in the Sentinels series. I am in LOVE! I can't wait to read Bas and Myst's story. The chemistry between them is off the charts.
*ARC provided via NetGalley in exchange for an honest review*