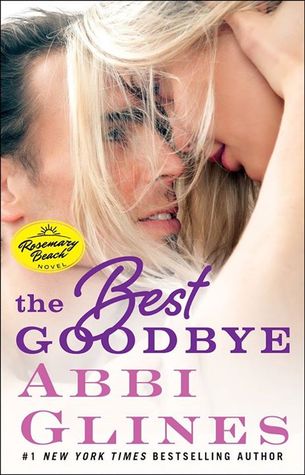 Title: The Best Goodbye
Author:
Abbi Glines
Series:
Rosemary Beach #13
My rating:
3 of 5 stars
Goodreads
|
Amazon
|
B&N
|
BookDepo
From #1 New York Times bestselling author Abbi Glines comes the next sizzling novel in the Rosemary Beach series, featuring well-known playboy and Blaire's half brother, Captain.
The look on Rose's face had screamed that she was hiding something. Hell, she'd practically run away from me. There was something to that. I knew there was...
After ten years in the employ of a mysterious crime boss, River "Captain" Kipling is ready to leave his sordid past—and his cover occupation as an upscale restaurateur—behind him. The only thing standing in the way of his "retirement" is his commitment to launch a new restaurant in the resort town of Rosemary Beach. With his sister, Blaire, nearby, Captain can delay his dream of running a humble bar on the waterfront, but the unwanted attentions of his head server, Elle, have him itching to get out.
Until he notices Rose Henderson, the new server at the restaurant. All he knows about the pretty redhead with the cute glasses is that she's a hardworking single mom from Oklahoma. But there's something overly familiar about her laugh...something strange about the way she looks at Captain...
I was so excited for Captain's story. I really liked what I read; I just didn't love it!
We met Captain several books ago with little to none information about his past. The things we know for sure are: he's Blaire's step brother and he's an assassin. Wow, what?
Let's take things from the beginning! River/ Captain Kipling hasn't always been an assassin, he certainly wasn't raised one. The Best Goodbye offers a great deal about River's past and how he came to be the man known as Captain. Captain wasn't always cold, distant, an assassin. If things had turned out otherwise then River Kipling would have been a happy man, maybe the happiest of all. Not everyone gets to meet their soul mate at twelve but River did, until he lost her.
When memories of the past re-emerge, Captain can blame no one but Rose Henderson, the new waitress at the restaurant he is opening. Rose isn't who she claims to be and when the truth comes out, there will be nothing to hold Captain back from taking what's his.
I fell in love with the first 40% of the book. After that it went downhill pretty quickly. I loved how Glines presented everything and how the mystery was solved but after that I felt as if the book was rushed.
There was a gap of many years between the time Captain and Rose meet again and I don't feel the book portrayed their re-connection. They had one beautiful past and a magical relationship but it progresses too quickly!
In addition we get to see Captain's other secret, one he never wanted anyone to know but one he can't hide any longer, especially from Rose.
I don't feel satisfied from what I read but I think that you should definitely read it! It is after all the 13th book in the Rosemary Beach series and we don't have many books left before the big end! I really don't want this series to end!!
Next one is Nan! I don't know how I'll feel about her story I just know she hasn't been my favorite person so far BUT she has quite redeemed herself in the past few books.
Until
Up in flames
!