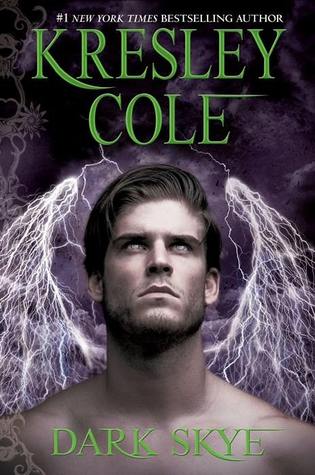 Book Title:
Dark Skye
Author:
Kresley Cole
Series:
Immortals After Dark #14
My rating:
5 of 5 stars
Goodreads
|
Amazon
|
B&N
|
BookDepository
Eternal Obsession...

As a boy, Thronos, Lord of Skye Hall, loved Lanthe, a mischievous Sorceri girl who made him question everything about his Vrekener clan. But when the two got caught in the middle of their families' war, tragedy struck, leaving Thronos and Lanthe bitter enemies. Though centuries have passed, nothing can cool his seething need for the beautiful enchantress who scarred his body - and left an even deeper impression on his soul.

Endless Yearning...

Lanthe, a once-formidable sorceress struggling to reclaim her gifts, searches for love and acceptance with all the wrong immortal suitors. But she's never forgotten Thronos, the magnificent silver-eyed boy who protected her until she was ripped from the shelter of his arms. One harrowing night changed everything between them. Now he's a notorious warlord with a blood vendetta against Lanthe, hunting her relentlessly.

Can the heat of desire burn brighter than vengeance?

With their families locked in conflict and battles raging all around them, will Thronos and Lanthe succumb to the brutal chaos that threatens everything they cherish? Or will the fragile bond they formed so long ago spark a passion strong enough to withstand even the darkest doubts?
"The virgin was seducing the seductress!"
Dark Skye is the 14th instalment in the Immortals after dark series by Kresley Cole. This book tells the story of Lanthe and Thronos.
WoW! WoW! WoW!
This book was beyond my expectations. I knew from all the teasers that it was going to be incredible but really it was EPIC!
We've known Lanthe and Thronos from the previous books in the series but we never really knew their story (which goes far back) and it was such an intriguing journey to follow.
Melanthe is the Queen of Persuasion, a Sorceri while Thronos is the Prince of the Skye, a Vrekener. They are supposed to be enemies but they have just found their other half.
"You smell like sky. And home."

"What does that mean?"

"To me, you smell like no one else in the world ever has, or ever will."
Lanthe and Thronos met when they were both very young but even then, they knew that their "friendship" should be kept hidden from their families. When Thronos's family discovered that their son's mate is a Sorceri, they decided to take matters upon their hands and strike against Lanthe and her family. They same night her parents are murdered and her sister almost killed, Lanthe commands him to fall from a height without using his wings, leaving him forever broken, both in the inside but in the outside as well. Since that night, Thronos has been hunting her to not only get his revenge but also his mate. What Thronos doesn't know though, is that Lanthe and Sabine have been hunted by his kind for a very long time.
Their hatred for each other is known throughout the Lore but that doesn't stop Thronos from hunting her and finally capturing her. Seems that Lanthe has escaped one prison (The Order) to just end up in another (Thronos's arms). But for Thronos things aren't as simple as they seem. Lanthe is his fated mate and thus he has been true to her for almost 500 years. Now the wait is finally over. He will have his mate and continue his bloodline. But first they have to escape from the island. Between Lanthe's unstable power and Thronos's broken body, escaping won't be that easy. The journey to Skye is going to be a long one and full of surprises...
I devoured this book (really)! Kresley Cole does not disappoint! Since reading Kiss of a Demon King, I've been "patiently" waiting for this EPIC story. Once again I was awed by this world Kresley has created. The wait was definitely worth it.
Lanthe and Thronos were two incredible characters with an overwhelming amount of chemistry. Thronos wasn't the typical arrogant hero, he was, though, too judgy (really). He judged Lanthe at every turn, he was jealous, controlling, a kill joy but he was also kind, a tortured soul, over protective and so much more. Above everything though, he was adorable (really!). When they were young, he used to eclose Lanthe with his wings, fly her over the clouds, tell her secrets, just being with her was enough for him(soooo adorable) and Lanthe wasn't that bad too. In the end they both got to see each other for what they were.
What I really loved was the glimpses we got from Holly and Cadeon and their twins, and Sabine and Rydstrom. What I didn't quite like was that besides them we didn't get to see other characters from the series, which we usually see (well except Nix, who was more confusing than ever)
My biggest question though is who's next??? I was so confused when I found out that this was going to be Lanthe and Thronos's story (don't get me wrong, I totally loved it) , since when finishing MacRieve I thought Munroe was next but now things got sooo complicating. So, who's next Munroe, Furie with maybe Kristoff or Nix(pls be her). One thing is sure: I know who I'm voting for.
Highly recommended!!!