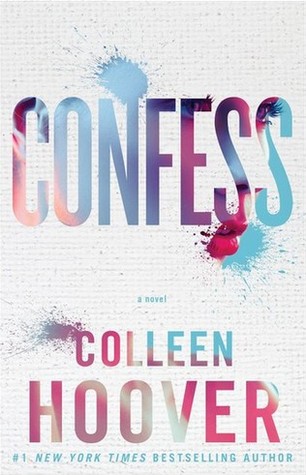 Title: Confess
Author:
Colleen Hoover
Series: None
My rating:
5 of 5 stars
Goodreads
|
Amazon
|
B&N
|
BookDepo
Auburn Reed has her entire life mapped out. Her goals are in sight and there's no room for mistakes. But when she walks into a Dallas art studio in search of a job, she doesn't expect to find a deep attraction to the enigmatic artist who works there, Owen Gentry.
For once, Auburn takes a risk and puts her heart in control, only to discover Owen is keeping major secrets from coming out. The magnitude of his past threatens to destroy everything important to Auburn, and the only way to get her life back on track is to cut Owen out of it.
The last thing Owen wants is to lose Auburn, but he can't seem to convince her that truth is sometimes as subjective as art. All he would have to do to save their relationship is confess. But in this case, the confession could be much more destructive than the actual sin…
For those who don't know, Colleen Hoover is a new author to me. Her books have been in my tbr list since Hopeless first came out but it wasn't until July that I decided to read my first CoHo book, Hopeless. I was hooked and ended up reading all of her books. Confess was the last book I read.
Al of CoHo's books are unique but Confess was more so.
Auburn Reed's life has been a living hell for the past six years. She lost too much but yet got a gift that is the only thing keeping her going, that and a promise of a better future. Her circumstances may not be ideal but Auburn has still hope that things will get better. Having just moved to Dallas, she is in desperate need of money so when she finds a "help wanted" sign in the window of an art studio, she takes it.
Being an artist was never supposed to be easy and there is no one who knows that better than Owen Gentry. A loner with the ability to bring his paintings to life. His ability to draw is striking but what is more striking is that fact that Owen's paintings are inspired by other people's confessions. When Auburn walks in his gallery to take the job, Owen can't believe that fate would be so kind.
There are so many layers to Owen and Auburn's story. It's the little details that make the difference. Confess is told by both Auburn and Owen's POVs. The bond that exists between them was forged long before they met in the gallery. Still the attraction between them sets off the minute Auburn decides to step into Owen's art gallery.
Being Auburn and Own isn't easy. Auburn has her own reality to live in while Owen creates his own world. Their worlds collide the moment their responsibilities become more pressing.
Confess was a pretty rare book. I couldn't find any flaws (not that I looked) everything from the cover to the little details of the story were captivating. I read it in a matter of hours and re-read it the same day. I couldn't stop staring at the paintings and reading Auburn and Owen's dialogues. They were both inspiring characters: selfless, compassionate, strong and full of spirit.
Confess is an emotional realistic book about two people who have known each other longer than they think.
Totally recommended!