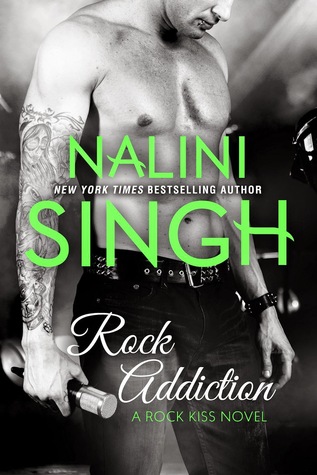 Title: Rock Addiction
Author:
Nalini Singh
Series:
Rock Kiss #1
My rating:
5 of 5 stars
Goodreads
|
Amazon
|
BookDepo
A bad boy wrapped in a sexy, muscled, grown-up package might be worth a little risk…

Molly Webster has always followed the rules. After an ugly scandal tore apart her childhood and made her the focus of the media's harsh spotlight, she vowed to live an ordinary life. No fame. No impropriety. No pain. Then she meets Zachary Fox, a tattooed bad boy rocker with a voice like whiskey and sin, and a touch that could become an addiction.

A one-night stand with the hottest rock star on the planet, that's all it was meant to be…

Fox promises scorching heat and dangerous pleasure, coaxing Molly to extend their one-night stand into a one-month fling. After that, he'll be gone forever, his life never again intersecting with her own. Sex and sin and sensual indulgence, all with an expiration date. No ties, no regrets. Too late, Molly realizes it isn't only her body that's become addicted to Fox, but her heart…
"His lips…his lips should've been illegal."
I'm just blown away!

This book is like no other book written by this author. It was so different from her other series that I found myself checking and double checking the author of the book after I finished it! I'm used to reading paranormal romance or fantasy by Nalini and now I think I must get used to to New Adult as well. This book isn't fantasy or paranormal, it's plain New Adult. So, if you're as a huge fan of Nalini's as I, then I guess you will love it as much as I did.

Rock Addiction is a rock romance with an alpha rock star and a great heroine. Fox, is our typical rock star. Arrogant, sexy as hell, realistic but above everything he's a real charmer. It's no surprise that Molly is smitten from the very first glance. Molly thinks that Fox is a player and makes no move to approach him, despite being the sister of their manager. Little does Molly know that since Fox noticed her, he can't seem to concentrate on anything but her. She's on his radar and he plans to have a taste...

This book was just incredible. In the beginning she was a bit annoying and confusing character but as we got to know her better, I totally understood her behavior. She was a little unfair to Fox though. She didn't give him a chance and always jumped to conclusions that weren't true. The only problem I had, was the speed their relationship progressed with. One minute they were strangers and the other, they practically lived together. It doesn't make any sense. I think I'd have enjoyed more if their relationship wasn't so rushed.

The second half of the book seemed more realistic. We got to see the problems that most couples face when living together, the challenges they had to go through and their determination to stay together.They were a really cute couple and I loved their bond. They respected each other needs and boundaries, never pushed for more. I loved the way they comfortred ecah other and eventually healed. They both had a rough past but they managed to let that go and embrace their love. Above everything though, I admired Fox. He was surrounded by his band, who were great guys (not all of them) but sometimes they were such a bad influence and yet he was so loyal and devoted to Molly. He never once strayed or did drugs or anything else to give Molly an excuse to leave. Instead he was a real gentleman (ok not always).

Rock Addiction was an amazing book. The main characters were so defferent yet so alike. They were immediately drawn to each other and didn't try to fight that connection but rather embrace it. It was a bit weird yes but I think when you find your other half you can't be picky about it. The plot was unique, there was some drama but I guess that's expected considering their past. Of course there was a lot of romance which was hot, hot, hot and the secondary characters were just a bonus. Some I loved and some I didn't (Can't say I hated them but I didn't quite loved them either).

Are you wondering whether or not to read it?! Well don't. Go pick it up...

Highly recommended!