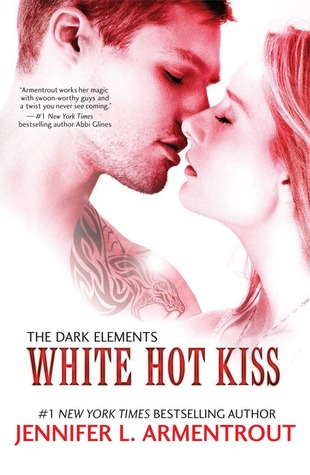 Title: White Hot Kiss
Author:
Jennifer L. Armentrout
Series:
The Dark Elements #1
My rating:
5 of 5 stars
Goodreads
|
Amazon
|
B&N
|
BookDepo
One kiss could be the last.

Seventeen-year-old Layla just wants to be normal. But with a kiss that kills anything with a soul, she's anything but normal. Half demon, half gargoyle, Layla has abilities no one else possesses.

Raised among the Wardens—a race of gargoyles tasked with hunting demons and keeping humanity safe—Layla tries to fit in, but that means hiding her own dark side from those she loves the most. Especially Zayne, the swoon-worthy, incredibly gorgeous and completely off-limits Warden she's crushed on since forever.

Then she meets Roth—a tattooed, sinfully hot demon who claims to know all her secrets. Layla knows she should stay away, but she's not sure she wants to—especially when that whole no-kissing thing isn't an issue, considering Roth has no soul.

But when Layla discovers she's the reason for the violent demon uprising, trusting Roth could not only ruin her chances with Zayne… it could brand her a traitor to her family. Worse yet, it could become a one-way ticket to the end of the world.
"You need something," he said, and when I stared at him, he added, "Your face."
"My face?"
"It's in need of my kisses."
First off, let me start by saying that ever since I read Obsidian, Armentrout has become one of my favourite authors. I buy her books without a second thought and I always love them. White Hot Kiss was no exception.
Layla, our heroine, lives with the Wardens ( gargoyles who hunt and kill demons in order to protect humankind) despite being a halfing (half demon and hald warden). As far as she can remember herself, she was always taught to hate demons and that led her to ignore her demon side. Thus she has always felt as an outsider. Zayne, her only warden friend and her secret crush, is the only one who never treated her as half demon, he's the only one who makes her feel normal. Until him…
Roth, a powerful demon, bursts into her life at the most unsuitable time. Roth is the total anthithesis of Zayne. Heavily tattooed and pierced, Roth walks into her life with the promise of showing her, her real legacy. Layla has always wondered about her demon, especially now that her demon powers are getting stronger and she can't seem to be able to control them. So when Roth shows up, she can't resist.
This book was mind blowing. Words aren't enough to express how I felt about this book. It was abso-fucking-lutely amazing. Layla was a very intriguing character. She was neither a warden nor a demon. She was the best of both. She was very protective of those she loved and despite what everyone thought of her, she always managed to be confident.
Roth was another story altogether. As always Armentrout has created a flawless (yet sometimes imperfect ) character. As opposed to some readers, I was never torn between Zayne and Roth. Zayne may have been the wise and safe choise for Layla but Roth was her "mate". He was charming, funny, protective and just amazing. I wish he was real so I could claim him. I fell for him almost from the very beginning. But aside from all his charm , Roth wasn't without his secrets. It was interesting unravelling each and every of them.
White hot kiss just became my favourite read from J. Armentrout. It was everything I expected and more. A YA filled with gargoyles, demons, romance and humor. I'll try to patiently wait for the sequel despite that unexpected end!
Highly recommended!