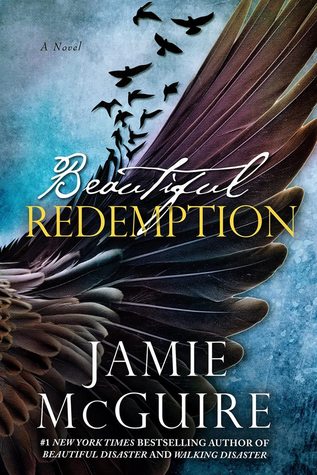 Title: Beautiful Redemption
Author:
Jamie McGuire
Series:
The Maddox Brothers #2
My rating:
4 of 5 stars
Goodreads
|
Amazon
|
B&N
|
BookDepo
No-nonsense Liis Lindy is an agent of the FBI. Deciding she is married only to her job, she breaks off her engagement and transfers from Chicago to the field office in San Diego. She loves her desk. She is committed to her laptop. She dreams of promotions and shaking hands with the director after cracking an impossible case.

Special Agent in Charge Thomas Maddox is arrogant, unforgiving, and ruthless. He is tasked with putting away some of the world's toughest criminals, and he is one of the best the Bureau has to offer. Though, as many lives as he's saved, there is one that is beyond his reach. Younger brother Travis is faced with prison time for his involvement in a basement fire that killed dozens of college students, and the media want a conviction. Travis's only savior is his unusual tie to the mob. In a deal that will spare his brother, Thomas has agreed to recruit Travis into the FBI.

Liis is stubborn, defiant, and yet somehow softens Thomas's rough edges, making her the perfect agent to accompany him to the ceremony. Posing as a couple, they must travel to Travis & Abby's beach vow renewal and give him the news, but when the pretending ends, she finds herself wondering if they were pretending at all.
"I was miserable and angry because I loved a man who I couldn't love, who loved someone else but loved me more."
The second book in the Maddox brothers series, tell the story of Thomas, the older Maddox brother and Liis, an FBI agent.
When Liis is relocated to San Diego, the only thing that's on her mind is to leave her past behind and move one with her life. Thomas Maddox may be leading a very successful career but no one in his family knows it. Why? Well that would be because Thomas is lying to his whole family about his profession. But Thomas is a remarkable agent that managed to climb the ranks very quickly and be respected, if not feared , by most of his colleagues.

One night is all it takes for them both to let themselves go!

Thomas and Liis were so competitive all the time. Antagonizing each other constantly! I haven't met such a competitive coupe before. After their initial sock wore off, regarding the circumstances under which they met, they both tried to pretend that nothing had happened. Truth is they were both so affected by the connection that existed between them. They weren't afraid to challenge each other but they were afraid to acknowledge their feelings.

Forced to spend a weekend together pretending to be a couple, Thomas and Liis are working together to clear Travis's name. Through their games though, they start falling for each other. Thomas is still stuck in his past and what Liis doesn't yet know, is that his hearth isn't his to give. He's still in love with Cami, his brother's soon to be wife.

Although their relationship is a bit rocky, Thomas and Liis really want to make it work. Their relationship was one of those break up/make up relationships, which I usually hate but in this case the author knew what she was doing.

All in all, I enjoyed reading the book. I have to admit that I didn't love it as much as I did Travis or Trent's stories but it was much different from their stories.

If you love the Maddox brothers, then you're in for a treat!