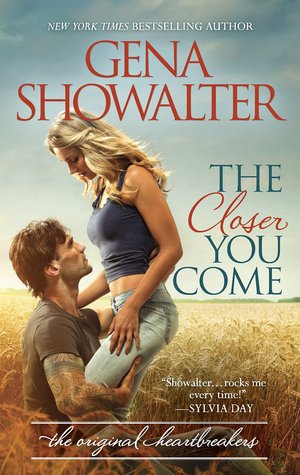 Title: The Closer You Come
Author:
Gena Showalter
Series:
The Original Heartbreakers #1
My rating:
4 of 5 stars
Goodreads
|
Amazon
|
B&N
|
BookDepo
Just released from prison, Jase Hollister has a dark and twisted past. And now, he has only one goal: stay out of trouble. Strawberry Valley, Oklahoma, sounds like the perfect place for him and his two brothers-by-circumstance to settle down and live a nice, simple life. But model citizen isn't exactly this rugged bachelor's default setting—especially when it comes to a certain hot-blooded Southern beauty…
Brook Lynn Dillon has always been responsible. Not that it's done her much good. The down-on-her-luck waitress is broke, single and fun-deprived. Until Jase comes along. He is dangerous, stunningly protective, breathtakingly sexy and as tempting as sin, and the passion sizzling between them is undeniable. But can it melt her resistance? After all, the right kind of trouble might be just what they both need.
Gena is one of my top-five authors and to me her books are a must- read. I love everything she writes and read everything without even checking the blurb. This book was no exception.
A brand new contemporary series focusing around three friends who have just found their heaven at Strawberry Valley, Oklahoma.
When Jase moved at Strawberry Valley with his two best friends, Beck and West, all he had in mind was to find some piece and quite. After spending the last nine years in prison, Jase just wants to be normal again but when he meets Brook Lynn Dillion he knows that normal isn't for him.
Brook Lynn's life has never been easy. She wishes life could give her a break but she's not so lucky. Between feeling like a freak because of her ear condition and following around her irresponsible older sister, Jessie Kay, Brook Lynn's hands are full. When her sister ruins their only chance at survival, she can't but accept Jase's professional proposal as his personal assistant.
They never knew life could be so sweet.
Spending everyday together Jase and Brook Lynn cannot deny their growing feelings but Jase holds back. He has been burned before due to the actions of his past but this time he's reluctant to lose the person his heart desires.
Can their relationship survive through the lies and secrets?
What I loved: the characters, the romance, the flow. I loved Jase. He won me over almost from the beginning. I'll admit that the circumstances under which he met with Brook Lynn weren't ideal but in the long run he made it up, at least for me. What he did may have been wrong but were I him, I'd have done the same (I think).
Brook Lynn was awesome! She totally rocked. She was supposed to rely on her sister but instead she relied on herself and in the meanwhile she took care of her sister. I also loved Beck and West, who will undoubtedly get their own stories. I do have to admit that despite her irresponsible behavior, Jessie Kay did reform in the end and I loved her competitive relationship with West. Something's happening between them and I'm wondering whether it's going to last or not. I hope it does.
What I didn't love: unfortunately, the plot. I loved were things were heading in the beginning, I even liked Jase's insecurities about their relationship but what I hated was the Daphne factor. Way to ruin a romance! I didn't like her involvement at all let alone her "surprise". This is my personal opinion though. If you read the book, you may enjoy it but I just couldn't.
All in all, it was an enjoyable read. I didn't love it as much as I did her other works but I still highly recommend it!