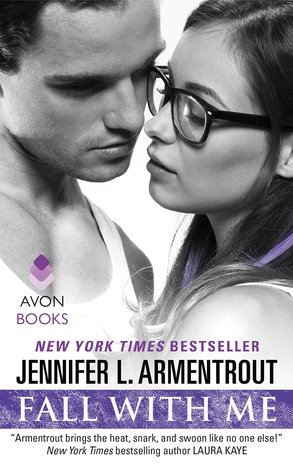 Title: Fall with Me
Author:
Jennifer L. Armentrout
Series:
Wait for You #4
My rating:
5 of 5 stars
Goodreads
|
Amazon
|
B&N
|
BookDepo
Eleven months ago, bartender and weird-shirt-wearing extraordinaire Roxy and Officer Reece Anders had a one night stand. Well, kind of. She's been in love with him since she was fifteen, and he wishes that night they shared never happened. She's sworn him off forever, but the past and future collide, forcing her to rely on the one man who broke her heart not once, but twice.
Her best friend since birth has been in a long-term care facility since he became a victim of a hate crime years ago, and the person who put him in there is out of prison and wanting to make amends with him and Roxy. She's not sure she has room for forgiveness in her and when she begins to receive frightening messages and is on the receiving end of escalating violence, she thinks she knows who is to blame. The man who already destroyed one life already.
But Reece isn't convinced. The threats are too personal, and even if Roxy doesn't believe him, he's not willing to let anyone hurt her. Including himself. He's already messed up more than once when it comes to Roxy and he's not going to let history repeat itself.
That was just wow!

The 4th book in the Wait for you series tells the story of Roxy and Reese. We have met and loved both of them in the previous book, Stay with me (Calla and Jax's story).

This was totally different from the other books in the series. A bit creepy/scary if you must but I loved it!

We have all wondered why Roxy was avoiding Reece, well the cat is out of the bag!

Roxy has been in love with Reece since she was 15 but knew that someone like him would never go for a girl like her. After a tragic accident changes her whole world she decides to stay away from him and concentrate on her future. Until a night changes everything. About eleven months ago Roxy and Reece had a "one-night" stand and when Reece made it clear that it was a mistake, Roxy did everything to stay away from him or just avoid him.

When strange things begin to occur to her house and Roxy suddenly feels threatened by the man who ruined her best friend's life, Roxy needs Reece's help. Reece may not remember what happened that night eleven months ago, he may wish it hadn't happened but he knows that he will do everything to protect Roxy.

I love so much Jennifer Armentrout and her books! Fall with me was super incredible not only because of the cover but because for once the two main characters had feelings for each other since they were very young. Roxy was such a tormented character. She felt guilty for what had happened to her friend and all the while both her family and Reece were trying to convince her that it was an accident. I felt sorry for her and I was hoping she forgave herself. Reece was just amazing, always so patient, strong, determined. He brought out the best in Roxy. He tried to convince her to follow her dreams, to continue painting, to forgive herself.

Fall with me was very different from the other books in the series. Firstly, it was a bit creepy. Roxy thought that her house was haunted, that there was a ghost living with her but in reality there wasn't a ghost but something even worse. There was a lot of suspense and action and of course the romance! The pages were on fire by these two. There was also a bittersweet end, which was a first for the series, but not for the reason you think.

Roxy and Reece's journey was filled with twists, a challenging path but it was a path full of hope and that was what made it beautiful.

I highly recommend it!