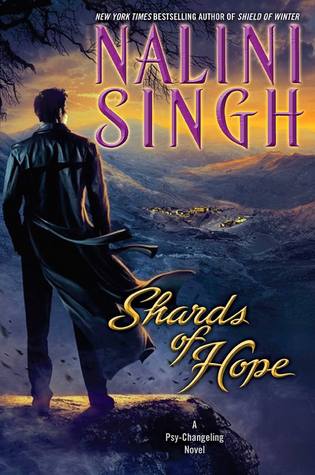 Title: Shards of Hope
Author:
Nalini Singh
Series:
Psy-Changeling #14
My rating:
5 of 5 stars
Goodreads
|
Amazon
|
B&N
|
BookDepo
Awakening wounded in a darkened cell, their psychic abilities blocked, Aden and Zaira know they must escape. But when the lethal soldiers break free from their mysterious prison, they find themselves in a harsh, inhospitable landscape far from civilization. Their only hope for survival is to make it to the hidden home of a predatory changeling pack that doesn't welcome outsiders.
And they must survive. A shadowy enemy has put a target on the back of the Arrow squad, an enemy that cannot be permitted to succeed in its deadly campaign. Aden will cross any line to keep his people safe for this new future, where even an assassin might have hope of a life beyond blood and death and pain. Zaira has no such hope. She knows she's too damaged to return from the abyss. Her driving goal is to protect Aden, protect the only person who has ever come back for her no matter what.
This time, even Aden's passionate determination may not be enough—because the emotionless chill of Silence existed for a reason. For the violent, and the insane, and the irreparably broken…like Zaira.
"If I take you. I'll keep you. Always."
This is the second book in the series with two Psy main characters. The first one was Heart of Obsidian, Kaleb and Sahara's story.
Truth be told I loved Sahara and Kaleb's story even though they were both psy too but in Aden and Zaira's story something was off. I can't say I loved the book or the main characters but I did enjoy it.
Aden, leader of the Arrows, is not the person one simply messes with. Nobody really knows the capacity of his abilities but no one seems to care to ask. Zaira is a threat of her own, Aden's right hand. When they both wake up in a strange place, blocked from the net, unable to use their abilities and having to deal with a shot wound, they both realize that they will have to escape or they are dead.
Escaping won't be easy. With nowhere to run or to hide they will have to rely on a not so welcoming pack in order to survive.
I wish this was all that happened in the book. If it were I'd have loved it. Needless to say it wasn't. Most of the book was covered by politics and the fall of silence. These two topics were a huge part of the book while the romance took only about 5% of the book and I'm not kidding. As if the lack of romance wasn't enough, we had to deal with Zaira's constant worry about becoming the monster of her past. I was really sorry about her childhood but how many times is it going to be mentioned before it becomes annoying?!
So yeah, I had some major issues with the book BUT in the end of the day, it all comes down to being Aden's story and since I love Aden, I couldn't not love his story.
Shards of hope wasn't a perfect book, I didn't love it but I enjoyed reading it. It was a nice addition to the series, I had a lot of fun catching up with some characters we've previously met. I especially loved seeing Sienna. I need more Sienna and Hawke scenes!
All in all, it was a nice read, it could be better but I'm just glad that we got Aden's story. I don't really like Zaira, maybe if we see her in the next books I'll get used to her but right now, in this book, she wasn't a great heroine. Still, this is an installment you can't miss in the series. Just because I didn't like Zaira that doesn't mean anything, you may love her.
I totally recommend it and I can't but wonder who is next. I'm really hoping to see a changeling/changeling or a psy/changeling couple.