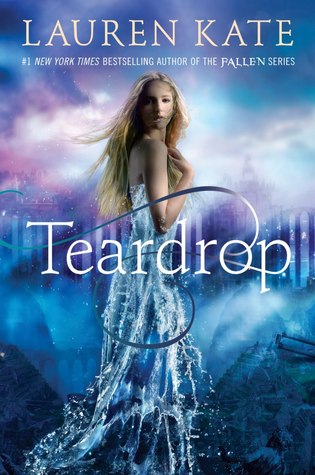 Title: Teardrop
Author:
Lauren Kate
Series:
Teardrop #1
My rating:
4 of 5 stars
Goodreads
|
Amazon
|
B&N
|
BookDepo
Never, ever cry...
Seventeen-year-old Eureka won't let anyone close enough to feel her pain. After her mother was killed in a freak accident, the things she used to love hold no meaning. She wants to escape, but one thing holds her back: Ander, the boy who is everywhere she goes, whose turquoise eyes are like the ocean. And then Eureka uncovers an ancient tale of romance and heartbreak, about a girl who cried an entire continent into the sea. Suddenly her mother's death and Ander's appearance seem connected, and her life takes on dark undercurrents that don't make sense. Can everything you love be washed away?
I won't lie. The reason I picked up this book was the cover. Let's just stare at it for hours?! But as I began reading it, I was captivated by it.
All of her life Eureka has been warned never to cry. She never understood why but she never had a reason to question her mother. Until now. After her mother's horrible death, Eureka is about to explode. Living with her father and her step mother, Eureka's patience has run thin.
Ander is a seedbearer, tasked with watching after Eureka ever since she was born. He watched her grow up, make friends, laugh, love, live and a little every day he cared for her. Without knowing it, she became his world. So when the time came to put an end to her life, he hesitated, went against everything he was taught and saved her. Eureka never would have thought that their accident wasn't supposed to kill her mother but hers.
Teardrop is a book about a hidden civilization, Atlantis, that has been hidden too long and Eureka is the key to awaken it again. Eureka had no idea what her fate would hold.
Eureka and Ander were two amazing characters, I would have loved to see more of Ander though but I'm hoping to read more of him in the next book. I also liked Brooks, Reka's best friend, her step mother wasn't such a great person but still I never saw that coming. I loved her step siblings, they were such incredible little devils.
I know that a lot of people didn't like Teardrop but I enjoyed it. I guess it depends on what you like but in my opinion, you should definitely give it a chance.
Teardrop was a wonderful, magical journey with otherworldly creatures, many twists, and a tragic end.
I can't wait to read the sequel.
Totally recommended!