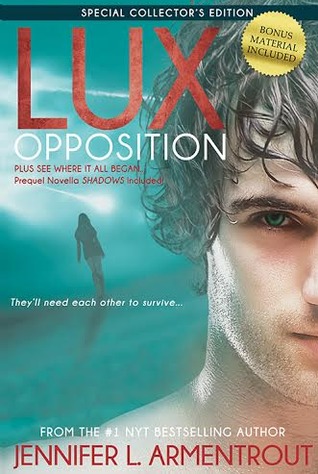 Title: Opposition
Author:
Jennifer L. Armentrout
Series:
Lux #5
My rating:
5 of 5 stars
Goodreads
|
Amazon
|
B&N
|
BookDepo
Katy knows the world changed the night the Luxen came.
She can't believe Daemon welcomed his race or stood by as his kind threatened to obliterate every last human and hybrid on Earth. But the lines between good and bad have blurred, and love has become an emotion that could destroy her—could destroy them all.
Daemon will do anything to save those he loves, even if it means betrayal.
They must team with an unlikely enemy if there is any chance of surviving the invasion. But when it quickly becomes impossible to tell friend from foe, and the world is crumbling around them, they may lose everything— even what they cherish most—to ensure the survival of their friends…and mankind.
War has come to Earth. And no matter the outcome, the future will never be the same for those left standing.
"It's not like I'm going to run up and hug him."

"I'd sure hope not. I might get jealous."

"You'd get jealous if she hugged a tree,"

"Maybe...I'm needy like that."
I can't believe that this is the end! Don't get me wrong I loved the book but I really didn't want this series to end...
Opposition begins where Origin left off. After the alien invension and the disappearance of Daemon, Dawson and Dee, Katy is trying to find a way to reconnect with them and guess what?! Katy gets her wish but things aren't as simple as before. Daemon doesn't want to fight his people but how can he not when they are all out of control and killing humans?! Maybe the arum were never the enemies and maybe the only way to save the earth is to finally cooperate with them...
This book had so much going on. It was packed with action (lots of it), suspense, humor and Daemon Black and his kitten. I think I'll never get over Daemon and his devotion. His love for Kat was never in question, at least for me. They were such a cute couple from the beginning of the series till the very end. So yeah, Daemon surely made it to my fav book boyfriends list!
This was trully an epic series and not only for Daemon and Kat but for the secondary characters as well. I really loved Dee although, at the beginning of the book her behavior was very confusing, Dawson and Beth were both amazing characters and I'm very glad they got they HEA, Archer I just adored and many other characters. I can say that I was very happy to see some very unexpected characters in this book such as Hunter and Serena!!! I don't want to spoil anything about their involvement in the book but I can say that they rocked (arum aren't always the bad guys!).
Obsidian was the very first book I read by Jennifer Armentrout and I can't belive that this journey has come to an end. I'm not going to say anything more because I really don't want to spoil the book for you. This final book is going to amaze you. It surely amazed me. Never saw that coming.
If you're new to the series then go pick it up. If you're debating whether or not to read the final book in the series then try to avoid the spoilers but really just read it as well. You have no idea what you're missing...
Goodbuy Daemon and Kat! I was great (actually more than great!)