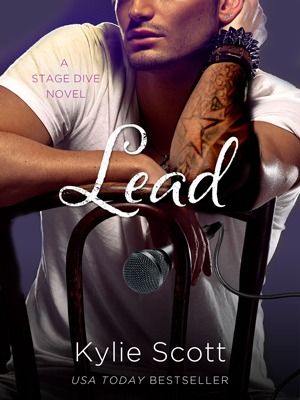 Title: Lead
Author:
Kylie Scott
Series:
Stage Dive #3
My rating:
5 of 5 stars
Goodreads
|
Amazon
|
B&N
|
BookDepo
As the lead singer of Stage Dive, Jimmy is used to getting whatever he wants, whenever he wants it, whether it's booze, drugs, or women. However, when a PR disaster serves as a wake-up call about his life and lands him in rehab, he finds himself with Lena, a new assistant to keep him out of trouble.  

Lena's not willing to take any crap from the sexy rocker and is determined to keep their relationship completely professional, despite their sizzling chemistry. But when Jimmy pushes her too far and Lena leaves, he realizes that he may just have lost the best thing that ever happened to him.
"The truth is, I'm all about you, Lena. You're my best friend. You're my girl."
Ever since reading Play I've been really anxious to read this one. Lead is the fourth book in the Stage Dive series and tells the story of Jimmy, lead singer of Stage Dive and David's brother and Lena, his "assistant".
Jimmy has royally messed up and after his brother's warning he knows that he only has one more chance or his out of the band. In order to stay clean, the band decides to hire an assistant or just a person to help him stay clean and that's when Lena comes in. Lena has familly issiues which makes her decision to help Jimmy a lot easier. Lena has to live with Jimmy and keep him in line 24/7. But as they spend more and more time together the boundaries between their professional relationship begin to blur...
Just WOW. This book was just so different from the other books in the series. Lena was the best heroine in the series. That girl just rocked. She was so confident, smart, sassy, strong and I loved how she handled Jimmy. She never let him him get away with anything and Jimmy had some big huge issiues. So, yeah, Lena was the perfect candidate for the job. Despite everything though, Lena is completly honest with Jimmy. When she felt that her feelings might get in the way she decided to quit. But Jimmy being Jimmy convinced her to start dating other guys in order to get over him. But as Lena starts dating other guys Jimmy realizes that he may have just lost the best thing that ever happened to him.
Jimmy isn't your typical rockstar either. He might have made a few (huge) mistakes but that's all behind him. He exercises, being healthy and left the past behind him. Jimmy doesn't trust many people but with Lena things are different. With her he can be his true self. He doesn't hide anything from her. That's what I really admired about them, how honest they both were with each other.
All in all, the book was amazing!!! Actually every book in the series has been amazing but this one was just unique! It was filled with romance, lots of humor and I really got the characters. I can't wait for Ben's book.
Totally recommended!!!