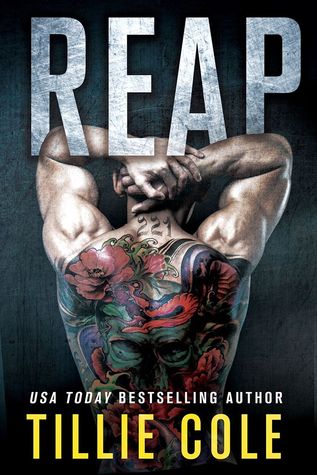 Title: Reap
Author:
Tillie Cole
Series:
Scarred Souls #2
My rating:
4 of 5 stars
Goodreads
|
Amazon
|
B&N
|
BookDepo
Raised as a prototype for the Georgian Bratva's obedience drug, 221 fails to think, act, or live for himself; he's his master's perfectly-crafted killing puppet. Standing at six-foot-six, weighing two-hundred-and-fifty pounds, and unrivaled in to-the-death combat, 221 successfully secures business for the Georgian Mafiya Boss of NYC, who rules the dark world of the criminal underground. Until his enemies capture him.
Talia Tolstaia dreams to break from the heavy clutches of Bratva life. She dreams of another life--away from the stifling leash of her Russian Bratva Boss father and from the brutality of her work at The Dungeon, her criminal family's underground death-match enterprise. But when she stumbles upon her family's captive who is more monster than man, she starts to see the man underneath. A powerful, beautiful, damaged man whose heart calls to hers. But sacrifices must be made--blood for blood...life for life...souls for scarred souls...
"I have lived, Talia. In the short time I have known you, I have lived more than I could have ever dreamed. I have lived because of you. I have gained a full heart, a full heart for you."
- Zaal Kostava
Reap is the second book in Tillie Cole's amazing series Scarred Souls and tells the story of Talia Tolstaia, Luka's sister and Zaal Kostava (aka 221).
Luka can't forget the promise he made to his only friend, Arni, before he was forced to kill him; take revenge from the people who destroyed their lives. When he finds out that Arni has a twin brother who is still captured and referred to as 221, he risks everything to save him even knowing his true identity. Zaal is a Georgian and thus an enemy to the Tolstois but Luka has made a promise and he intends to keep it.
Talia Tolstaia, princess of the Russian family, just wanted a week away from her family's business to rest and think about her future. So when her brother brings a man to their getaway house she's surprised to learn that he isn't an ally but an enemy. Still Luka seems to think that he is a friend. Talia can't really interact with Zaal since he is heavily drugged from all the years of abuse but she can still spy on him, which she does. It doesn't take long for Talia to realize how wrong she's been about Zaal.
Reap is the first book I read by Tillie Cole in which the heroine is a normal person who actually manages to remain quite safe throughout the book and doesn't get abused. I was really getting tired of that motive and I'm really glad it's not repeated here as well. The story was surprisingly romantic with a lot of action, suspense and many twists.
Zaal was a tortured hero who recognized Talia as his anchor. With her he experienced what freedom feels like and the warmth of the sun on his skin. She was the first woman to ever touch his face and be gentle and patient with him. In return Zaal gave her the only thing he had, his heart.
There are some great obstacles on the way to their happiness but the bond they share is stronger than anyone expected, even them.
Reap was a really great book and I'm really glad I didn't miss it. Zaal and Talia's story was enthralling and I totally recommend it.
*ARC provided via NetGalley in exchange for an honest review*