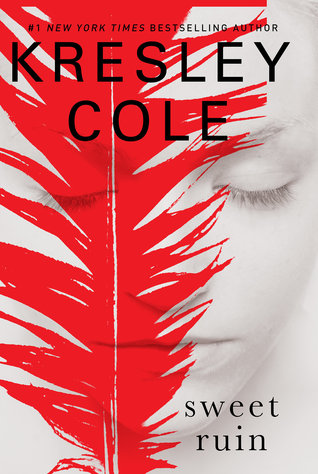 Title: Sweet Ruin
Author:
Kresley Cole
Series:
Immortals After Dark #15
My rating:
5 of 5 stars
Goodreads
|
Amazon
|
B&N
|
BookDepo
A foundling raised in a world of humansGrowing up, orphaned Josephine didn't know who or what she was—just that she was "bad," an outcast with strange powers. Her baby brother Thaddeus was as perfect as she was flawed; protecting him became her entire life. The day he was taken away began Jo's transition from angry girl…to would-be superhero…to enchanting, ruthless villain.
A lethally sensual enforcer on a missionA threat to the Møriør has brought archer Rune the Baneblood to the mortal realm to slay the oldest living Valkyrie. Whether by bow or in bed, he never fails to eliminate his target. Yet before he can strike, he encounters a vampiric creature whose beauty conceals a black heart. With one bite, she pierces him with aching pleasure, taking his forbidden blood—and jeopardizing the secrets of his brethren.
A boundless passion that will lead to sweet ruin…Could this exquisite female be a spy sent by the very Valkyrie he hunts? Rune knows he must not trust Josephine, yet he's unable to turn her away. Despite his millennia of sexual conquests, he can't ignore the unfamiliar longing she arouses deep within him. When Jo betrays the identity of the one man she will die to protect, she and Rune become locked in a treacherous battle of wills that pits ultimate loyalty against unbridled lust.
OMG!!! Holy Cow! Sweet Ruin was MIND BLOWING!
When I found out that this book was going to be about Thad's sister, Josephine and Rune, a member of the Morior, I wasn't that excited! I wanted to know more about the Morior but what I really wanted was Munro's story. HOWEVER, after actually reading the book I really can't complain!
Ever since she can remember herself, Josephine has had one life goal; protect her little brother Thaddeus. She knows nothing about their past, who their parents are or where they came from but she knows she has to protect him no matter what. Until she's brutally murdered and they are separated. When Josephine wakes up at the morgue, she has no idea she's a half phantom, half vampire hybrid but she quickly realizes that she's not normal. She takes revenge on the people who murdered her and her next thought is to go after her brother but it's too late!
Now 14 years later, she's aimlessly wandering around New Orleans still trying to find out information about her past until she comes across Rune.
Rune the Baneblood is on a mission. The Morior have decided that Nix is a threat against them and therefore she must be killed. Rune, a hybrid himself, is a true assassin who will do anything for the Morior. He desires Josephine but he knows he can't trust her. With the same mission, to kill Nix, they form an uneasy alliance that will either bring them close or tear them apart…
This book was freaking mind blowing. There was so much action, so many twists and soooooo many surprises. We almost got to see everyone (just a pretty little scene) including the Enemy of Old. I L-O-V-E-D everything about this book. It's a huge step towards the impending Accession and with the Morior in play you never know what will happen!
Favorite Scene between the Morior and Nix's Allies: (to view spoiler highlight/select it with your cursor)
Morior: "Trifling beings, you are presently beneath my boot heal; you just don't have the awareness to grasp your own doom. We are the bringers of it."

Lothaire: "Well, I like them already. That sounds like something I would have said. With, of course, a dash more verve."
I fell in love with Josephine. It's usual the male hero that gets my attention but the heroine in this book was so selfless. She was a badass, she has the best powers EVER and she truly has no idea how AWESOME she is! Josephine sacrificed her own happiness so that her brother could get a chance at having a normal and balanced life. She was soooo lonely but she still didn't care about herself as much as she did about her brother. Every night she went out hunting to make the world a better (aka safer) place for Thad to live in. BEST SISTER EVER!
We also get to see what is happening with Nix! So freaking intelligent that Valkyrie! I really admire her but she's NUTS! She's also about to become completely something else so prepare yourselves!
I devoured this book in a matter of hours (who needs sleep?! Not ME!) I'm so obsessed. I can't stop thinking about it and what is going to happen next; I just know I'm going to love it. What I can't stop thinking about is Nix's mate. Who is he? When are we going to meet him? Have we already met him? What if Orion, leader of the Morior, is actually her mate? (Highly improbably but what if?) When is the next book coming out? Can I have it now please?
I really can't wait for more but until then, I'm going to re-read it a thousand times (I vow it to the Lore :)
*ARC provided in exchange for an honest review*