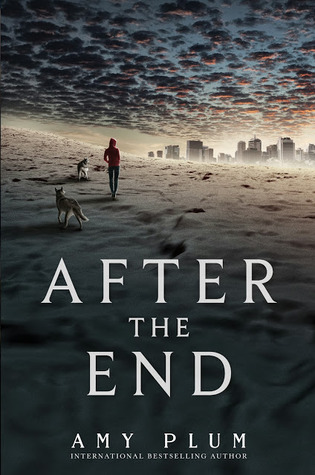 Title: After the End
Author:
Amy Plum
Series:
After the End #1
My rating:
5 of 5 stars
Goodreads
|
Amazon
|
B&N
|
BookDepo

She's searching for answers to her past. They're hunting her to save their future.
World War III has left the world ravaged by nuclear radiation. A lucky few escaped to the Alaskan wilderness. They've survived for the last thirty years by living off the land, being one with nature, and hiding from whoever else might still be out there.
At least, this is what Juneau has been told her entire life.
When Juneau returns from a hunting trip to discover that everyone in her clan has vanished, she sets off to find them. Leaving the boundaries of their land for the very first time, she learns something horrifying: There never was a war. Cities were never destroyed. The world is intact. Everything was a lie.
Now Juneau is adrift in a modern-day world she never knew existed. But while she's trying to find a way to rescue her friends and family, someone else is looking for her. Someone who knows the extraordinary truth about the secrets of her past.
Life is easier in black and white. It's the ambiguity of a world defined in grays that has stripped me of my confidence and left me powerless.
After the end is the first book I read by Amy Plum. Her Revenants series has been sitting for a long time to my tbr shelf and, after reading this one, I'll be definitely moving it to my read shelf.
Juneau, our heroine, has been deceived into believing that World War III has left the earth barren and uninhabited. Born and raised in Alaska's wilderness, Juneau is content with her life until one day everything changes. Her tribe is taken by men Juneau has never seen before and she's determined to take them back. All of her life she was warned never to cross their borders. The time has come though, to test her limits.
When Juneau wanders beyond their borders, she expects to find a destroyed world. But nothing has prepared her for what's to come. She's been lied. Juneau discovers a thriving civilisation and she just found out that someone's after her. Surving in this new world is harder than she thought though.Especially when she witnesses that she's different from the average human. Juneau has a direct connection with the Yara (she has psychic powers and she can cast spells) which means she can conjure and manipulate things for good purposes. Juneau can't believe that her father and her tribe would lie to her but now she knows it's imperative to find them, rescue them and get the answers she deserves.
But this world isn't hers. She knows little about it and she needs someone to help her find her way. That's when Miles shows up. The son of a wealthy man, the only reason Miles knows about Juneau is because his father is after her. So, Miles decides to help his father out and find her for him. But things get more complicated when Miles tracks Juneau and she's not at all the "spy" he thought her to be.
Wow ! what a roller coaster. I couldn't turn the pages fast enough. It was packed with so much action and suspense. Juneau was a great heroine. She had all the characteristics a leader should have. On the other hand, Miles was a city boy. Always getting what he wants, Miles wasn't much happy when Juneau started judging him. They were so different characters but put together they made two parts of a whole. The book had so much going on. There was a lot of mystery surrounding Juneau but at the same time Miles had a lot of secrets as well.
I loved this book! It was nothing like I expected it to be but I found that surprises aren't always bad.
The only thing I hated was the major cliffhanger. I understand that cliffhangers are supposed to motivate one to read the next book but when the next book is to come out on May 2015, I find cliffhangers very frustrating.
Anyway, I want to say a big thank you to Shana from Books: The Cheapest Vacation You Can Buy for giving me the opportunity to read this book. If it weren't for her, I wouldn't have read this book.
Looking forward to reading more!
Highly recommended!