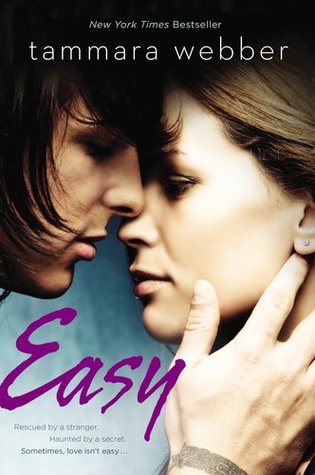 Title: Easy
Author:
Tammara Webber
Series:
Contours of the Heart #1
My rating:
5 of 5 stars
Goodreads
|
Amazon
|
B&N
|
BookDepo
When Jacqueline follows her longtime boyfriend to the college of his choice, the last thing she expects is a breakup two months into sophomore year. After two weeks in shock, she wakes up to her new reality: she's single, attending a state university instead of a music conservatory, ignored by her former circle of friends, and failing a class for the first time in her life.
Leaving a party alone, Jacqueline is assaulted by her ex's frat brother. Rescued by a stranger who seems to be in the right place at the right time, she wants nothing more than to forget the attack and that night - but her savior, Lucas, sits on the back row of her econ class, sketching in a notebook and staring at her. Her friends nominate him to be the perfect rebound.
When her attacker turns stalker, Jacqueline has a choice: crumple in defeat or learn to fight back. Lucas remains protective, but he's hiding secrets of his own. Suddenly appearances are everything, and knowing who to trust is anything but easy.
"Love is not the absence of logic
but logic examined and recalculated
heated and curved to fit
inside the contours of the heart"
Easy was the first book I read by this author. It was a pleasant surprise to read such a smart story.
I must admit that when I started reading the book, I never expected the author to give us such a thorough background for our hero. And he was a real hero for me.
This book was nothing "easy" to read. It was emotionally charged, very realistically written and dealt with a difficult subject.
Lucas was our tortured hero but he was also obsessed with Jacqueline, our heroine. Jacquline is studying economics, a decision she made based on he ex-boyfriend's choice. After beeen attacted and rescued by Lucas, she knows she must get to know him better. After all he's nothing like a hero should be. Tattooed, pierced and a motorcycle man, Lucas will surely make you doubt your hero view.
Jacquiline, knows she should stay away from him but she can't resist. Her attraction to Lucas is unavoidable but at the same time dangerous for them both.
The author did a good job in portraying life on campus. Life on campus can be wild, partying, flirting and staying up all night but it can also hide many dangers.
What I really loved was the major twist the author created. Jacquline's division between Luas and Landon. A dilemma that actually never existed.
The book follows Jacquline on her journey to college and the unexpected incidents that occur.
The attraction between Lucas and Jacquline was and felt very real. They were both very realistic characters and Lucas, despite all he went through, managed to let everything stay in the past. He was adamant to make his relationship with Jacquline work.
I'm very glad I read Esay.
Totally recommended!