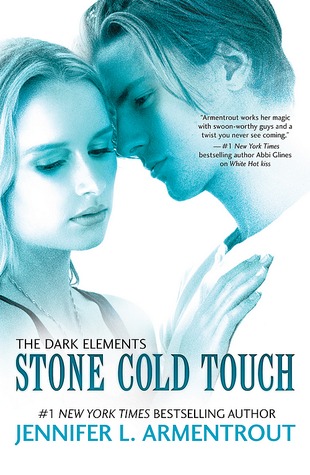 Title: Stone Cold Touch
Author:
Jennifer L. Armentrout
Series:
The Dark Elements #2
My rating:
5 of 5 stars
Goodreads
|
Amazon
|
B&N
|
Book Depo
Every touch has its price
Layla Shaw is trying to pick up the pieces of her shattered life—no easy task for a seventeen-year-old who's pretty sure things can't get worse. Her impossibly gorgeous best friend, Zayne, is forever off-limits thanks to the mysterious powers of her soul-stealing kiss. The Warden clan that has always protected her is suddenly keeping dangerous secrets. And she can barely think about Roth, the wickedly hot demon prince who understood her in ways no one else could.
But sometimes rock bottom is only the beginning. Because suddenly Layla's powers begin to evolve, and she's offered a tantalizing taste of what has always been forbidden. Then, when she least expects it, Roth returns, bringing news that could change her world forever. She's finally getting what she always wanted, but with hell literally breaking loose and the body count adding up, the price may be higher than Layla is willing to pay…
"I would know if a part of my heart was gone."
What just happened?
When I started reading this book, I knew two things for sure:
1) Roth was definitely coming back
2) Layla and Zayne would come closer
But it's different knowing things and them really happening.
Let's start from the beginning though. The second book in the Dark Elements series will definitely blow you away. After that horrible cliffhanger, we finally get to see Roth's return *drums*. I really, really love Roth (team Roth all the way) but he was so unfair to Layla at the beginning. Layla wasn't doing great either. After Roth was gone the only thing she had of his was Bambi. She mourned him and felt so guilty for everything that happened. So when Roth does return, she's shocked by his behavior and as if that isn't enough, Layla's powers are changing once again.
Layla doesn't feel confident of her powers, especially now that something strange is happening. An old race of demons has awakened and unusual things are occurring at school. Things are so out of control that wardens are forced to work with the demons in order to find and eliminate the threat. No one ones who's the cause of all these but all evidence points at Layla.
Is she the one causing these things? Even Layla, herself is unsure of the answer…
This was a WoW book for me! I loved Layla and Roth I usually hate love triangles but J. Armentrout knew what she was doing. I have to admit that for one tiny moment, I did consider Zayne as Layla's mate but then something happened and I realized that Zayne would have never been able to protect her. Of course, Layla and Zayne were triple hot (their make out scenes were super incredible). I totally enjoyed seeing them together. I think if we hadn't seen them together, we would have wondered what could become of them. Now that I have seen them together, I can say that they were amazing but I'm still Team Roth.
Roth may not be the wise choice for her but he was the one that always stood by her. Besides that though, he's sin incarnated. Who could resist him?
Stone Cold Touch was everything I expected and more! Filled with romance, humor, twists and turns it captured my attention from page one till the end. I know you're thinking that this is another love triangle but believe me when I say, this is not the case. Layla, Zayne and Roth are such amazing characters. You will surely fall in love with them.
I wish this trilogy never ended but I'm really looking forward to reading the third and final book in the series.
Read in one sitting!!!! That good :)