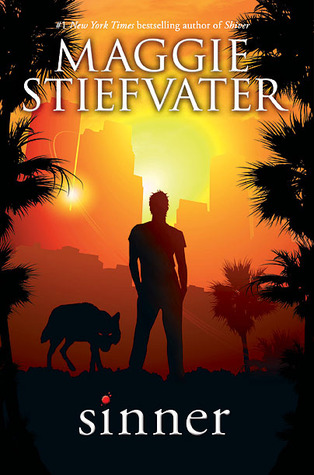 Title: Sinner
Author:
Maggie Stiefvater
Series:
The Wolves of Mercy Falls #4
My rating:
5 of 5 stars
Goodreads
|
Amazon
|
B&N
|
BookDepo
Sinner follows Cole St. Clair, a pivotal character from the #1 New York Times bestselling Shiver Trilogy. Everybody thinks they know Cole's story. Stardom. Addiction. Downfall. Disappearance. But only a few people know Cole's darkest secret -- his ability to shift into a wolf. One of these people is Isabel. At one point, they may have even loved each other. But that feels like a lifetime ago. Now Cole is back. Back in the spotlight. Back in the danger zone. Back in Isabel's life. Can this sinner be saved?
"Internet: What do you want for your birthday?
Virtual Cole: to stay young forever
Cole texted me: Actually I want you" ...
Let me start by saying how long I have waited for Cole's book. I was beyond excited when the author announced both the title and the publication date of the book. The book may not have been everything I expected (don't get me wrong, I loved this book) but I devoured it.
When I first started reading this book I thought we would get more Cole action. But the reality is that we got almost no action. What I also expected was a more paranormal aspect but we got none of it as well. These facts may have dissuaded me a bit but come on… this is freaking Cole's book.
Sinner had both Cole and Isabe's point of views. I have to admit that Isabel frustrated me a bit (ok more than that). They both had to go through some personal issues, especially Cole, since he was a werewolf living under the spotlight but I felt like Isabel always overreacted and she always run. I'm just so angry when people try to run away from their problems repeatedly. I understand the need to get away once but I just can't comprehend the running attitude. It leads nowhere and it eventually creates more problems. Isabel must have surely broken some record with all that running. She doesn't believe in HEAs, in love and she has no faith. I expected her to believe in Cole at least.
Sinner introduced us to some new characters as well. That was very invigorating! We get some glimpses from Sam and Grace but nothing major really.
You may not believe me but I actually loved this book. As every book, it had some things that I didn't love but in the end everything worked out for me, even Isabel. Isabel learned from her mistakes and actually trusted Cole from the very beginning. It was herself who she doubted. In the end she run to Cole and she was the one to claim him!
"I can't change the way I'm made. I'm a performer, a singer, a werewolf, a sinner."
Totally recommended!