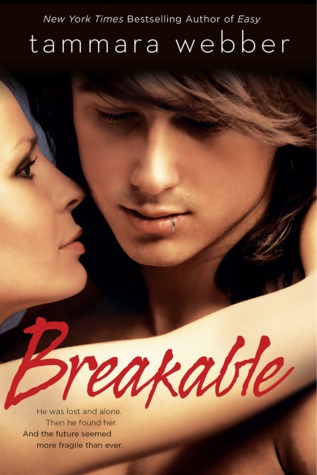 Title: Breakable
Author:
Tammara Webber
Series:
Contours of the Heart #2
My rating:
4 of 5 stars
Goodreads
|
Amazon
|
B&N
|
BookDepo
He was lost and alone. Then he found her.
And the future seemed more fragile than ever.
As a child, Landon Lucas Maxfield believed his life was perfect and looked forward to a future filled with promise — until tragedy tore his family apart and made him doubt everything he ever believed.
All he wanted was to leave the past behind. When he met Jacqueline Wallace, his desire to be everything she needed came so easy…
As easy as it could be for a man who learned that the soul is breakable and that everything you hoped for could be ripped away in a heartbeat.
"Everyone isn't logical. Everything doesn't make sense in the end. Sometimes you have to forget about explanations or excuses and leave people and places behind, because otherwise they will drag you straight down."
Breakable isn't the sequel to Easy. Breakable is a retold of Easy from Lucas's POV (point of view) and I'm really glad I read it.
When I read Easy, I was always intrigued by what Lucas's thoughts were and why he acted as he did. After reading Breakable all my questions have been finally answered.
Lucas's POV (aka Landon's) provided us with every pieceof information that was omitted in the previous book. While reading this book we witness every struggle, both in the past and in the present, Lucas had to tackle to become the man we met in Easy. Everytime the author chooses to reveal something from Lucas's past or just a memory, she refers to him as Landon. Because that's who Lucas was before he became who he is now, he was just Landon. A boy who had two lovely and caring parents. A boy who never once saw how cruel and unfair this world is. Lucas lost everything in just a night: his childhood, his innocence and his mother. Losing his mother affected him tragically in his life, especially considering the way his mother died.
It was kind of weird seeing Jacquline through Lucas's eyes. He watched after her, cared for her and eventually she became his salvation.
I loved the flashbacks Lucas had and all those little snippets of his childhood. Some memories were perfect and other just explained the nightmares he had to suffer. All these things clarified so much about his behavior and the life he led.
Once again I was mesmerised by the amazing writing, the realistic characters and the ability of the author to portray such a challenging subject.
For all the fans of Easy, I strongly recommend that you read Breakable. I was not in the least disappointed. Quite contrary, this book captured my attention from the very beginning till the end.
Lucas is the best and strongest hero ever.