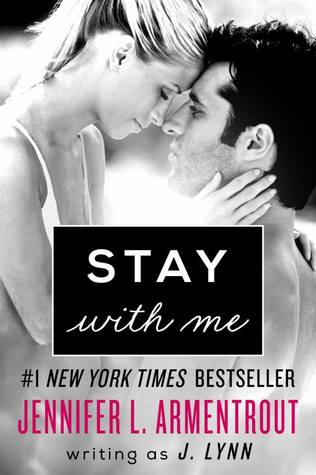 Title: Stay with Me
Author:
J. Lynn
(aka
Jennifer L. Armentrout
)
Series:
Wait for You #3
Goodreads
|
Amazon
|
B&N
|
BookDepo
At 21, Calla hasn't done a lot of things. She's never been kissed, never seen the ocean, never gone to an amusement park. But growing up, she witnessed some things no child ever should. She still carries the physical and emotional scars of living with a strung-out mother, Mona—secrets she keeps from everyone, including her close circle of college friends.
But the safe cocoon Calla has carefully built is shattered when she discovers her mom has stolen her college money and run up a huge credit card debt in her name. Now, Calla has to go back to the small town she thought she'd left behind and clean up her mom's mess again. Of course, when she arrives at her mother's bar, Mona is nowhere to be found. Instead, six feet of hotness named Jackson James is pouring drinks and keeping the place humming.
Sexy and intense, Jax is in Calla's business from the moment they meet, giving her a job and helping her search for Mona. And the way he looks at her makes it clear he wants to get horizontal . . . and maybe something more. Before Calla can let him get close, though, she's got to deal with the pain of the past—and some very bad guys out to mess her up if she doesn't give them her mom.
"I used to be really pretty. See? I used-"
"There is no 'used' to be. You're really fucking pretty now."
Stay with me just became my second favourite book in the wait for you series by J.Armentrout. This book tells the story of Calla, Teresa's friend and Jax, a handsome bartender in her mother's bar.
Calla is quite a mystery, even to her friends. She doesn't talk much, she never mentions her family or things about her past and she's always hiding herself. She believes that she's finally doing something with her life.
You see Calla has three "tiny" goals:
"Finish college.
Find a career in the nursing field.
Finally reap the benefits of following through on something."
Everything seems to be going according to her plan until her past comes back to hunt her, forcing her to go to a place she never wanted to return, home. But when she does return, she's shocked to find out that her mother is long gone. Even more shocking though, is the new bartender at her mother's bar, Jax. Jax and Calla are immediately attracted to each other. Calla knows that someone like Jax could never be drawn to someone like her but little does she realise that Jax already knows everything there is to know about her.
Stay with me was exactly like I expected it to be. Jax was a unique character. He didn't personally know Calla but it was as if they had spent years together. I really can't expain their connection. You have to read the book to understand their bond. Jax sees beauty all around him and despite what Calla thinks of herself , Jax tries (very hard) to convince her of her beauty.
On the other hand, Calla has stopped believing in the world and has long since given up on herself. She's has a hard life but she has chosen a better path. I think that the fact that Calla tries to change is a positive thing for her.
Stay with me was an incredible addition to the series. Jax and Calla were two wonderful characters who fought so hard to achieve their goals. It was fun following their journey. Action, romance, humor, drama and a sweet hero are all included. Until forever with me…
Totally recommended!