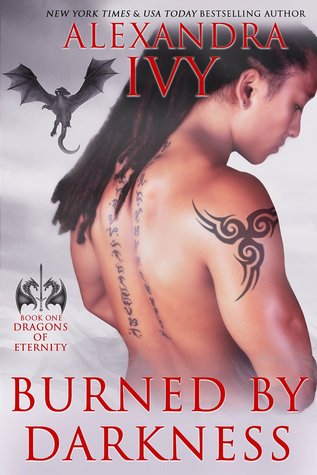 Title: Burned by Darkness
Author:
Alexandra Ivy
Series:
Dragons of Eternity #1
My rating:
5 of 5 stars
Goodreads
|
Amazon
|
B&N
The Dragons of Eternity were once creatures of myth and legend. Now they've returned to the world, prepared to claim what's rightfully theirs…
Tayla is desperate for a place to call home. After years on the run, the young imp impulsively buys a teahouse and is determined to build a new life. Unfortunately, she's barely opened the doors when she's tracked down by the dragon who purchased her from troll slave-traders. He demands she pay off her debts…in his harem.
Baine has devoted a quarter of a century to tracking down his beautiful concubine. And now that he has her in his grasp, he's not about to let her go. But it's soon apparent that he isn't the only demon hunting her. He must uncover her secrets or risk losing her forever.
When the Guardians of Eternity series ended I was really sad to let it go but then I found out that I wouldn't need to since the author decided to write a spin off. I was so damn excited!!!
The Dragons of eternity series book number one tells the story of Tayla, an imp and Baine, a dragon shifter.
Twenty five years ago, Tayla was kidnapped from her father's shop where she worked and she was later sold to dragons by the trolls. What no one knew was that Tayla had a special gift and thus managed to escape from the dragon realm. But just because she escaped doesn't mean she's free. Tayla has been on the run for 25 years and the only thing she desires is a place to call home.
When Baine purchased the beautiful young imp the trolls sold to his father, the life he knew was over. The beautiful imp may have escaped once but now Baine has found her and he won't lose her again.
Burned by darkness was beyond amazing. It was exploding! The chemistry was off the charts and so was the temperature.
I did have some reservations before reading the book because of my love/hate relationship with dragons. It's not often that I happen to like dragons. I love supernatural creatures, dragons included but in most dragon books I've read (mostly romantic ones) they didn't impress me. Of course there was Dragon Bound, which I loved but my point is that good explosive dragon, romance books are hard for me to find. So I was cautious about this book.
Burned by darkness isn't only a romance. It had action, twists, mystery, suspense, very well guarded secrets, creatures that will make your skin crawl and incredible characters.
We get to see a lot of Levet. He was real fun to have around. There is also Char, Baine's best friend and second hand who was great too.
All in all, I thoroughly enjoyed reading Burned by Darkness and I can't wait to read more!
I don't know who's next but I'm hoping is Char or someone equally awesome.
Highly recommended!