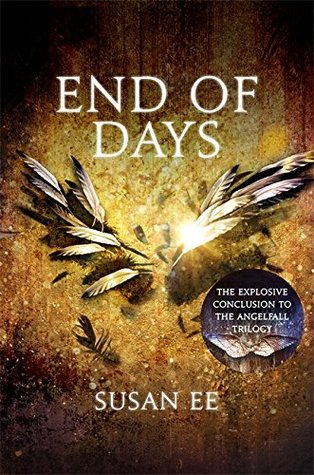 Title: End of Days
Author:
Susan Ee
Series:
Penryn & the End of Days #3
My rating:
5 of 5 stars
Goodreads
|
Amazon
|
B&N
|
BookDepo
End of Days is the explosive conclusion to Susan Ee's bestselling Penryn & the End of Days trilogy.
After a daring escape from the angels, Penryn and Raffe are on the run. They're both desperate to find a doctor who can reverse the twisted changes inflicted by the angels on Raffe and Penryn's sister. As they set off in search of answers, a startling revelation about Raffe's past unleashes dark forces that threaten them all.
When the angels release an apocalyptic nightmare onto humans, both sides are set on a path toward war. As unlikely alliances form and strategies shift, who will emerge victorious? Forced to pick sides in the fight for control of the earthly realm, Raffe and Penryn must choose: Their own kind, or each other?
'This is Penryn Young, Daughter of Man, Killer of Angels." Penryn
Early last year I discovered (actually I won it in a giveaway) a book titled Angelfall. As soon as I got it I was obsessed with the cover (cover lover here!) and before I know it I read and fell in love with it. Thankfully I didn't have to wait long for the sequel, World After, which I also loved. Now a year after I can't believe it's over.
End of days is really the perfect conclusion to Penryn and the end of days series. It picks up right where the previous book left off: Penryn, Raffe, Paige, the scorpions and Belial are up in the skies flying to locate Penryn's mother and a doctor to fix Raffe's wings. Sounds easy but it isn't. As if that wasn't hard enough, Uriel wants the so called Apocalypse to reach its end so he can be named a Messenger. What he never expects thought is Raffe. He won't allow Uriel to become the Messenger when he knows well that the apocalypse is fake. Uriel went against all their laws and created the so called monsters of the apocalypse so he could reach his goal to become the Messenger. What he didn't plan though was the fact that the last apocalyptic nightmare isn't just designed to kill humans but angels as well.
I really can't believe the series is over. There was so much action, suspense and we finally get to see the romance aspect come to life. Raffe and Penryn have always had great chemistry but up until now Raffe has never acknowledged his feelings. I was so excited when I got to read those scenes *squee*.
"I have better things to do."
"Like what?"
"Like convince a stubborn girl to admit she's madly in love with me."
However there are some things that I'd like to point out. Firstly, I would have loved to see a scene or two from Raphael's point of view. There were times I questioned his motives and it would have been nice to read his point of view. Secondly, what about Penryn's mother? Form the very beginning of the series I suspected that something was off with her but unfortunately we don't get any answers. Still that didn't bother me much. Thirdly, I was so very sorry for Belial. I know he was the villain in the two previous books but still I believe that everyone has misjudged him. After everything he went through it was only expected to end up like this. I can't believe he managed to survive hell and this is his end. I wish Susan Ee wrote more about him.
Although these things frustrated me a bit, I still loved the book. There are some major twists and turns that you will never see coming and a "lovely" trip to hell.
I'm really sad that the series is over. I have no idea if the author is planning to write another book for the series or something completely different but I know that if she does, I'll definitely read it.
I promise you are going to love this book.
Highly recommended!