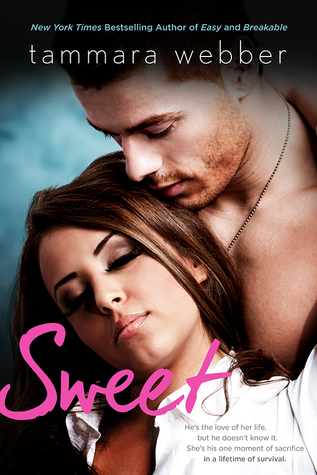 Title: Sweet
Author:
Tammara Webber
Series:
Contours of the Heart #3
My rating:
4 of 5 stars
Goodreads
|
Amazon
|
B&N
|
BookDepo
He's the love of her life, but he doesn't know it.
She's his one moment of sacrifice in a lifetime of survival.
He was damaged and wild, but resilient.
She's always been obedient. Now she's restless.
Home for the summer between college and med school, Pearl Torres Frank knows two things: Boyce Wynn is the embodiment of everything she should run from, and everything she wants to run to. Rebellious and loud. Unconcerned with society's opinion of him. Passionate. Strong. Dangerous.
And one more trait he hides from everyone but her:
Sweet.
"I'd rather her be happy the rest of her life without me than be the thing that made her sad."
Sweet is the third book in the Contours of heart series and it tells the story of Pearl Torres Frank and Boyce Wynn.
When a seven-year old boy saves a little girl from drowning, their lives change forever. Pearl met Boyce the day he saved her life. Since then their lives intertwined. He became her hero but she was his savior. Growing up in very different families, in the opposite side of town with little things to keep them together, Boyce and Pearl form a special bond.
I know it sounds cliché: a privileged young girl falls in love with the bad boy but Webber's ability to tell a story is truly unique.
What I liked: Boyce! He was such a strong character. He has lost almost everyone in his life, his father (who I hated) is dead, his brother, the only person he ever loved is dead and his mother abandoned them due to his father's behavior. All he has left is a little trailer to sleep in and the garage he works in. I have no idea how he managed to survive with a father like that but he was very brave having to endure such a rough past. Now Boyce dreams of a brighter future.
What I didn't like: the heroine, Pearl. She was a total brat. She and Boyce have an argument about this very matter where Boyce tries to reassure her that she isn't a brat, she is just privileged. Well, she's both.
Pearl was a great character but I just didn't like her much. What I did like about her was her decision to follow her dreams and not agree with the future her parents had in mind for her. She had doubts and fears and was a bit insecure but she made it. She lived the life she wanted and I totally liked that.
Of course, there are twists to the story and suspense but in its majority Sweet was a lovely romantic story about second chances and a love that spans over fifteen years.