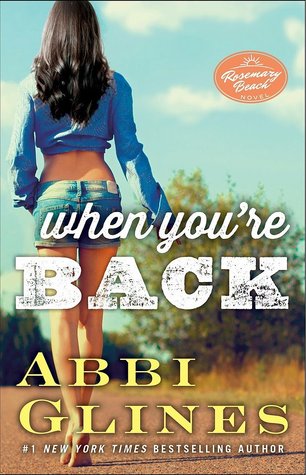 Title: When You're Back
Author:
Abbi Glines
Series:
Rosemary Beach #12
My rating:
4 of 5 stars
Goodreads
|
Amazon
|
B&N
|
BookDepo
The future is bright for Reese Ellis. She has Mase Colt-Manning, the man of her dreams, and a family she didn't know existed until her long-lost father arrived on her doorstep in Rosemary Beach. After growing up with a cruel mother and abusive stepfather, Reese is eager to get to know the caring and charming man who wants to be a part of her life. Everything is finally falling into place.
While Reese is visiting her new family in Chicago, Mase spends time with his "cousin," Aida, who has worshipped him since childhood. Though they're unrelated by blood, Mase and Aida have been raised to think of each other as family. But when Reese returns, she can tell something isn't quite right with Aida, who clearly resents Reese and excels at manipulative little games. And though Mase is unsuspecting, Reese knows Aida doesn't love him like a cousin should...
"I wasn't sure which was worse, loving and losing or not ever knowing that kind of love at all."
Drama! This is actually what the majority of the book is about.
I L-O-V-E Abbi Glines so much. I've actually read all of her books and I especially love the Sea Breeze and the Rosemary Beach series.
When you're back is the twelfth book in the Rosemary beach series and the sequel to When I'm gone, the continuity to Mase and Reese's story.
This book picks up where the previous left off. Reese has found her father and her real family. She has moved to Texas to be with Mase and finally shape her future. Soon things get complicated when Aida, Mase's cousin who is actually in love with him, views Reese as a threat and won't hesitate to use any means necessary to keep them apart.
When you're gone reminded me so much of Fallen too far. The characters are different of course, but the plot is pretty much the same. A couple in love being pulled apart by a relative, in this case Aida, Mase's cousin while in Fallen too far it was Rush's "sister" Nan, who I HATE! I didn't really like that but I overlooked it because the story was actually amazing. Reese and Mase were two amazing characters but each had flaws and that made them realistic to me, which was a good thing.
What I truly loved was Captain. I have to confess that I couldn't remember who he was and when I did find out that he is Blaire's brother, I'm ashamed to admit that I still couldn't remember him *gasp*. BUT I really liked him, I was obsessed with finding out more about him. Yet, I'm a bit confused about his actions and I don't mean the flirting with Reese thing, what I mean is something that you will never, ever see coming. I really need more of Captain. I hope he's getting a book or something because he was very secretive.
"Don't let your weakness define you, Reese. Ever. Your strengths should define you" -Captain
Another aspect I really loved was the secondary characters. We see almost everyone from the previous boos and the new additions to their families. I was very sorry for Kiro. I usually just ignore him or tend to not like him very much but I was really sorry for him and Emily. I still haven't read their story ( Kiro's Emily) and I don't know when I will be ready to read it. I just know that I'm not sure I can handle the books since we all know the end isn't a HEA. I'm pretty sure I'm going to cry my eyes out!
When you're back was a great addition to Mase and Reese's story with much drama and tension but with incredible characters.
"He made me feel as if I could ask him for anything and he would do it.That was a powerful yet humbling emotion." - Reese
Totally recommended!