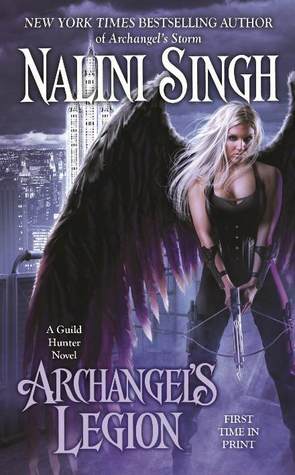 Title: Archangel's Legion
Author:
Nalini Singh
Series:
Guild Hunter #6
My rating:
2 of 5 stars
Goodreads
|
Amazon
|
B&N
|
BookDepo
Angels are falling from the sky in New York, struck down by a vicious, unknown force.
Vampires are dying impossibly of disease.
Guild hunter Elena Deveraux and the Archangel Raphael must discover the source of the wave of death before it engulfs their city and their people, leaving New York a ruin and Raphael's Tower under siege by enemy archangels.
Yet even as they fight desperately to save the city, an even darker force is stirring, its chill eyes trained on New York…and on Raphael. Rivers of crimson and nightmares given flesh, the world will never again be the same…
I know what you're thinking, that's what I thought as well, "another Raphael and Elena book?" Apparently yeah…
When I finished Archangel's storm (which I loved) I expected another of the seven to follow. Instead what we get is another book about the never ending drama that is Raphael and Elena's relationship. Don't get me wrong. I like the couple but I believe that the first three books in the series plus one more now, is simply too much. Even the third book was too much! The first two books, I loved! The third , not so much! (there was a point I dnf-ed the book and even considered abandoning the series if it continued thus) and now this…
This book was a torture! The only reason I read it, was because I didn't want to lose any major changes (not that there were any besides the legion)
Just like the third book in the series this book was so unnecessary. Elena's job and family drama goes on like usual. Hunting, investigating, fighting with her dad, having nightmares about her past and later crying about them to Raphael. This is the book in one sentence. I can't believe this is the Elena we met in Angel's blood. The same goes to Raphael as well. His mother is back (and despite what they are saying, she seems to be the most stable and sane of all the archangels) he's the youngest archangel ever, he has found his soul mate, he has all the money he could ever need and humans think he is a God. How can someone have all that and yet be so lifeless? In contrast with Elena though, I felt like Raphael had improved. His powers continue to change and he acting more like the leader he is (but don't get your hopes up yet)

On the other hand, once again drama, drama and more drama (that's actually a line I borrowed from my review of the third book in the series). How is it possible that all of the seven men in Raphael's league, with Raphael included, have a hunted past?! That's just absurd! And what's wrong with all the women in this book! I felt like this book was a battle between men vs women and it's really not hard to guess who's the winner (hint- 3 letters). All of the female archangels are so crazy (in a bad way), Elena's sister, Beth was such a fool for taking Harrison back! He apparently didn't care for Beth since he decided to become a vampire without checking if Beth could be turned as well. What makes her believe that he'll care for the baby?! And don't let me start with Elena.

There was however, one bright spot (maybe two) in the book. The legion and the big fight (ok, that one may not have been a bright spot but after being so bored , believe me you are doing to enjoy this one). Birds falling from the sky, rivers turning red, legions awaking! Fun stuff! Although, I felt like things got more complicated with them, I loved this new addition.

Who's next? Maybe Illium, Venom or Aodhan (or even Naasir! I don't know why but I feel that I'm going to love his story). Anyway, I'm a bit hesitant about Illium. In every book the author keeps mentioning his fixation with Elena and the fact that he was once in love with a mortal and never quite got over her. If we get another book like Dmitri's, I'm definitely abandoning the series. How can a book be romantic when the male can't truly devote himself to the heroine? If Illium doesn't get the book he deserves, then that's the end of the series for me!

Hopefully, the next Raphael and Elena book will be after everyone else gets their own story.
I'm sorry!!! I should have posted this one on Monday but I got distracted by other projects!