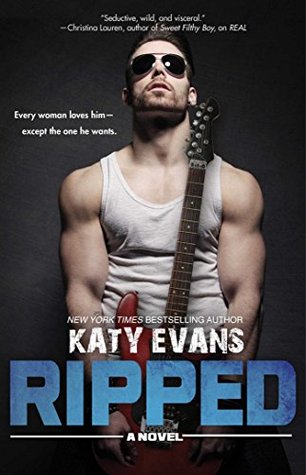 Title: Ripped
Author:
Katy Evans
Series:
Real #5
My rating:
4 of 5 stars
Goodreads
|
Amazon
|
B&N
|
BookDepo
Pandora, the gothic friend of Brooke (Real, Mine, Remy) and Melanie, thought that getting her heart broken by her bad boy rocker ex could only happen once. But now, he's back in town with the biggest concert of the year. Pandora hates him so much that she gets Melanie to come with her and play a prank on him at his gig. But when they are caught by security, and her ex himself is summoned, he decides not to press charges if she'll follow certain conditions. Pandora likes none of his rules, or that he's in charge of her, especially since they seem designed to make sure she's in close contact with him again. But the closeness reignites the passion they once shared, and soon no matter how much she wants to hate him, it's clear she's still hung up on him. And worse: he knows it too.
-Is this a promise ring?
-What are you promising me?
-Me."
This is the first book by Katy Evans that blew me away. I loved the previous books in the series but none affected me as much as this one did.
Pandora, should have been no stranger to us since we have seen her in previous books but when I tried to recall what info I knew about her, I came up with almost nothing.
Pandora's story goes like: boy meets girl, they fall in love, boy leaves without reason, girl gets her heart broken, they never recover from it. Before reading Pandora's story, I was surprised that a woman like he, was a man-hater. After finishing her story, I finally understand everything. She was so guarded, always kept everything to herself because she was afraid of getting hurt. But when an opportunity presents itself to extract revenge from the man who destroyed her life, she can't but take it.
Mackennna Jones, lead singer of Crack Bikini, is a man with many regrets. He knows that he made a lot of mistakes in his life but now he's on his way to make up for them. In public he appears to be a tough rock star but inside he is a beautiful person. He wants to fight for what he lost but he never expected the truth that Pandora kept to herself, would hurt so much.
Ripped is a story of a second chance love, forgiveness and broken hearts. Pandora and Mackenna were two amazing and strong characters. They had fallen in love when they were both very young and they had to separate die to some circumstances.
It was a great journey with a rock band, healing hearts, hot scenes, many great new and old characters. This book was also filled with many emotions. Once again, I have to admit that I couldn't but compare Pandora and Mackenna's story to the stories of the previous characters.
I can't wait for the next installment in the series (if there is a next one)!
Totally recommended!