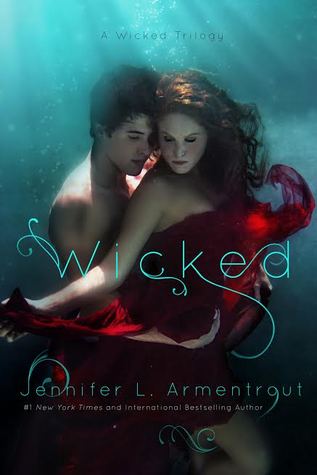 Title: Wicked
Author:
Jennifer L. Armentrout
Series:
A Wicked Saga #1
My rating:
5 of 5 stars
Goodreads
|
Amazon
|
B&N
|
BookDepo
Things are about to get Wicked in New Orleans.
Twenty-two year old Ivy Morgan isn't your average college student. She, and others like her, know humans aren't the only thing trolling the French Quarter for fun… and for food. Her duty to the Order is her life. After all, four years ago, she lost everything at the hands of the creatures she'd sworn to hunt, tearing her world and her heart apart.
Ren Owens is the last person Ivy expected to enter her rigidly controlled life. He's six feet and three inches of temptation and swoon-inducing charm. With forest-green eyes and a smile that's surely left a stream of broken hearts in its wake, he has an uncanny, almost unnatural ability to make her yearn for everything he has to offer. But letting him in is as dangerous as hunting the cold-blooded killers stalking the streets. Losing the boy she loved once before had nearly destroyed her, but the sparking tension that grows between them becomes impossible for Ivy to deny. Deep down, she wants… she needs more than what her duty demands of her, what her past has shaped for her.
But as Ivy grows closer to Ren, she realizes she's not the only one carrying secrets that could shatter the frail bond between them. There's something he's not telling her, and one thing is for certain. She's no longer sure what is more dangerous to her—the ancient beings threatening to take over the town or the man demanding to lay claim to her heart and her soul.
Another 5 stars for J. Armentrout.
I was surprised when I first found out that J.A. was writing a whole new series. I loved the title, I loved the cover, I loved the blurb and I was blown away by the book.
Ivy and Ren were two incredible and strong main characters. Although, the book is about Ivy, Ren gets his own story as well. They are both well developed and realistic characters with rough pasts.
Ivy has lost everyone that ever mattered in her life. First her parents, then her adoptive parents and her first love. It's for that reason that Ivy prefers her own company than that of her few friends. When a new member of the order moves into town, Ivy does her best to keep a distance. Little does she know that Ren can be very persistent!
I loved everything about this book. Ren, Ivy, Tink! Everyone! I call dibs on Tink though! I have to admit that I was surprised by him because I expected him to be a female. I loved him even better as a male. He was in a way what Bambi is for the Dark Element series (and let me tell you, I love that series). His relationship with Ivy, was a complicated one but they both cared for each other. Ren, knew what he wanted from the first time he met Ivy, he was infatuated with her. Ren thought he knew everything there was to know about Ivy's life but in the end he was wrong about her.
Ren and Ivy's relationship was sizzling hot, their chemistry, exploding and there were even some double hot sexy scenes.
I don't usually read fae books but I knew I had to read this one. I'm head over heels in love with Armentrout's books and this one was no exception. I couldn't read the book fast enough. A page turner full of action, suspense, romance, humor and an unexpected end. Ren, Ivy and Tink will surely win you over and in the end break your heart.
I can't wait to read Torn, Wicked's sequel!!! I'm very curious to find out what Ivy's future holds, love or death.
Highly recommended!